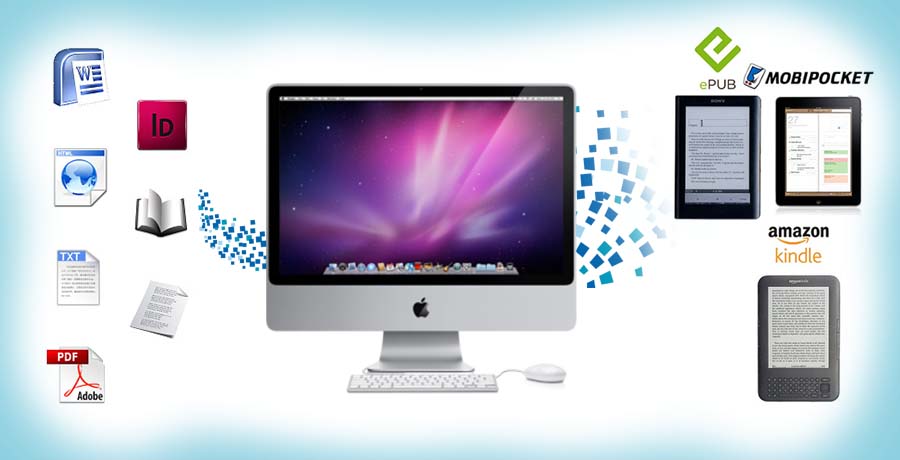 eBook Conversion Service: An Introduction
A professional publisher or author has tight schedules for publishing and writing. They cannot find spare time for other activities. In this scenario, finding time to convert or format the books into digital forms is not possible.
With increasing formats of reading devices every day, mastering them all is not possible. It is the prime reason why it is best to outsource eBook creation and layout designing needs to any professional service provider.
Besides, the eBook conversion service providers have been in demand ever since the introduction of eBooks. Even Amazon has revealed that the sales of digital books are already exceeding the printed versions. It is also another reason why publishers and authors prefer the best service providers for quality eBooks.
Before explaining the upsides and dimensions of reach you get with ePub3 conversion, it is important to know why authors and publishers find it hard to carry out the process by themselves.
Significance of eBook conversion and formatting for publishers and authors
Since the writing process takes time and you write at different times on different platforms, chances of inconsistency are always high. Complexity is a factor that poses a hindrance. A book of fiction is simple to convert. But it is not the same with loads of images as the latter requires moreplans and efforts for conversion and formatting.
Unprofessional effort can turn the process into untidy garbage of mangled words, mixed-up headings, out-of-order navigation, and inaccurate images. Here is where the significance of hiring a professional eBook conversion company gets illuminated.
What determines the quality of eBooks?
The quality of eBooks is not just determined by the content used but by how well it gets showcased. It means that the e-books must be able to grab the reader's attention and keep them engaged.
How to create quality eBooks?
Nowadays, creating digital books has become easier with the different eBook conversion software and tools. However, it is only beneficial when you only have one to two books for conversion. But what if there are more? Will it be convenient enough to do it yourself?
We all know the answer to this question, and it's a big NO. The alternative way to achieve good quality eBooks is by using eBook conversion services. The article will explain why implementing it is important and how to find the right person for the job.
Importance of using eBook Conversion Services
Digital book conversion has become faster and easier with the various eBook conversion companies available in the industry. These not only help with converting the printed books into digital format but also help with its publication.
We have also mentioned a few other reasons why seeking help from an digital conversion service provider is significant.
Self-publishing will be costlier than outsourcing because you have to buy all the tools and resources required for ePublishing.
The companies often hire experts to carry out the conversion activities. It means there are more chances of getting high-quality conversion results.
Most eBook conversion companies offer additional services for eBook cover design. They might also help with content proofreading or editing.
The service providers can help create resourceful eBooks compatible with all e-reading platforms, like Kindle, Nook, iBook.
You can get conversion services for Kindle Fire 8, ePub 3, enhanced ePub, and fixed-layout ePub Conversion.
Completely personalized services are assured. In case your book encounters some rare complexities, it can be a cause of concern. But with a professional service provider to assist you, there is no need for such a worry, and you can be guaranteed professional eBook formatting.
eBooks are not simply digitized versions of print books. They should be perfectly designed and attractive so that the whole book is a pleasure to read. Besides, there will be complete functionality on multiple reading platforms.
They scrutinize source files. All the alignments and paragraph indents have the same formatting as the source file. Therefore, you receive precise conversions for all the formats.
There will be a correct and accurate table of content. The cover image is resized and embedded for different platforms.
They will complement your eBook with enhanced features that will keep readers more interested in exploring the content.
How to Choose the Best eBook Conversion and Distribution Services?
While choosing an eBook conversion service provider, there are a few things you must consider. Underlying are the seven best tips that will be very helpful in this regard.
Start with a self-analysis

It is the first step to get started. Know your project intimately and ask yourself- What is your actual business objective? Who are your stakeholders? How much is your budget? The answers to these questions will give you an idea about what type of digital conversion companies can suit you.

Be well-organized and strategic

If you are researching the multiple options available for you, be professional and plan your approach. Create a spreadsheet and categorize the service providers based on their size, capacity, uniqueness, and location.

Also, sort out the final list of companies offering these services that fit your criteria exactly. The selection process will be simple.

Communication is vital

The most important thing you should pay attention to is how your service providers communicate on the reception of inquiries from your end.

The quality and pleasantness in communication in most cases guarantee a great experience associating with them.

Don't get impressed by cheaper rates

Many times, customers fall for cheap rates. No company will work without keeping their profit, and low prices are most of the time honeypots. Analyze the value of services you get for the price you pay. Know your expectations, and then choose the ideal vendor.

Ask about the steps followed and technologies they use

Inquire the vendors about the steps they follow for conversions and formatting. It should adhere to proper standards. Also, scrutinize the technologies they use as technology keeps on changing continuously.

Make sure that they use the newest technologies by studying the latest trends so that your product doesn't become obsolete in a few months.

Check if the company offers information security

Data security and copyright are crucial. Once your eBooks go online, millions of people can access them. That is why you have to make sure that the service providers provide data security and copyright protection. It will ensure that only authorized users will access it.

Addition of customized features

We all want our eBooks to look the best. So, check if the eBook conversion company is willing to offer support for additional customization. Create a list of all the elements you need and inquire if the company can include the features in your eBooks.
The key to surviving in this competitive world is to stay updated with the trends. If you have any plans for venturing into publishing, it is vital to know about the eBook conversion service providers. Finally, it is your choice which eBook Conversion Company to choose.
So, based on the above tips, you can proceed with the vendor selection process to get the best people by your side. WinBizSolutionsIndia is also a professional eBook conversion service provider that provides different types of eBook formatting and conversion services.
Also, check our portfolio and previous customer testimonials to learn what customers think about us. You can even demand a free sample to analyze whether the quality and other factors meet your level of expectations.