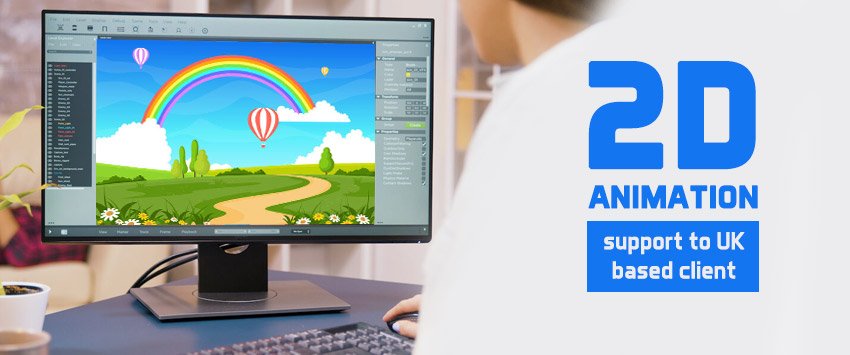 This is a case study about a client based in UK, who approached WinBizSolutionsIndia with 2d animation projects outsourcing.The experts working with the company collaborated well with the client to deliver the project in just 48 hours.
The Client
The client from UK specializes in producing marketing and commercial platforms from content that is generated by consumers. These are valuable brand assets for any company. Well, this client was looking for a partner to assist them with high-quality 2D animation project on an urgent basis. The project involved:
Developing 2D animation for branding and advertising purposes.
High-quality animation services at cost-effective rates, within a strict timeframe.
Challenges we faced
Like any other project, this project too brought along with it certain challenges which we had to overcome.
As said, the turnaround time provided to us by the client was short; we had only 48 hours to complete it.
Initially, the client provided us with the files in PSD format. The successive files were in JPEG format.
The client wanted the project to be accomplished, retaining high quality in the given timeframe.
Solution for the project
In order to meet all the criteria, as desired by the client, we approached the project in the following way:
The WinBizSolutionsIndia team carried out certain trial projects, as per the guidelines stated by the client. This was done to ensure that we could deliver the project, with the exact specifications that the client had provided us with. This allowed our experts to get an estimate about the total time that would be required to complete the project. Accordingly, we allocated our resources for the project.
We assigned four resources to work exclusively on the project, so that it could be finished on time.
We had received the script and file for the animation at the outset. Our team created a storyboard, based on these resources. Then they sequenced the scenes for the animation.
Our team used the latest 2d animation softwarein creating the animation. The visuals were stunning and we took care to ensure high quality in the project.
The project was thoroughly reviewed by our QA team, ensuring that the sequences and other elements in the animation were effectively compiled, right from the beginning to the end.
The results
As a reputed 2d animation service provider, we had accomplished complicated projects like these earlier also. We had to deal with different file formats at the initial stages, which slowed down our progress to a certain extent during the early hours. However, we were able to complete the project within the agreed timeframe, thanks to the experience and dedication of our experts.
The client was satisfied and happy to get the project within 48 hours. Our team achieved an accuracy of 99% in the project. We are also working on other projects of the client now.
Feel free to approach us for high-quality 2D animation services for your business.
Contact Us