WinBizSolutionsIndia is highly acclaimed for its leading-edge 3D sculpting services. We operate through a team of expert designers who are adept at delivering premium 3D modeling services and can efficiently handle any 3D design project. Our 3D modelers are champions at crafting world-class three-dimensional replicas of automotive parts, jewelry, statues, and toys.
We guarantee photorealistic rendering in all 3D sculpting projects that we execute through the careful and creative use of textures, meshes, and details to mold a virtual object in a way to bestow a realistic look and feel to it. Our artists have a high level of proficiency in deploying the most advanced CAD modeling techniques and can ensure the delivery of desired outcomes.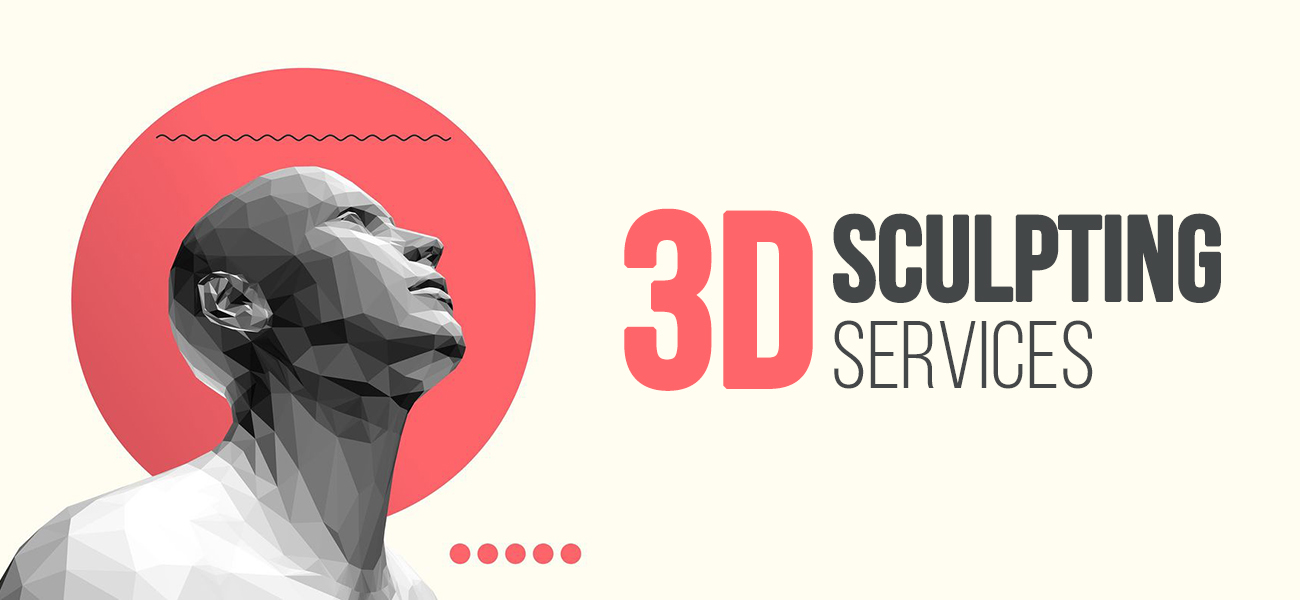 Our 3D artists can successfully handle two main approaches to modern digital sculpting. First, they create 3D surfaces by using a surface mesh made up of easily-manupable polygons. With this approach, they can work with both low-level and high-level polygons at multiple levels of resolution.
The other approach to developing custom 3D sculpts is voxel manipulation. We can confidently declare that our designers have mastered this technique as well and can deliver bespoke sculpture 3D models. They can efficiently manipulate different spots of undifferentiated material that are made up of voxels, which are actually the name given to 3D pixels.
The Scope of Our 3D Digital Sculpting Services
Addressing the needs of animation projects or games
Developing toy prototypes
Creating stunning virtual displays for conventions and trade shows
Designing custom trophies
Creating custom dolls
Product development
Developing fine art
Designing stop motion puppets
Prototyping for 3D printing
Creating photorealistic illustration
Our Process
Once you clarify your design requirements to us, we would assign you an experienced designer with high level of expertise in developing custom 3D models. The assigned designer will work closely with you to understand your project in greater details so that he/she can craft the perfect digital sculpt based on your rough drafts and 2D design.
We guarantee 100 percent data security and promise to maintain the confidentiality of your sensitive information at all costs. We sign a non-disclosure agreement before the commencement of the project and we have advanced technologies and strict procedures in place to sincerely adhere to our information security policies. We would set up secure FTP path that can only be accessed by authorized personnel, thereby ensuring high levels of access control measures and higher levels of security during the file transfer process.
We are the most trusted 3D design outsourcing service provider in present times. We would like to assure you that you will retain complete legal rights to the outcome and sole ownership of the final output file.
We Are Technologically Competent
Individuals working in our team have high levels of proficiency in making an appropriate use of the latest advanced software.
Whatever the size of your project may be or however complex your design concepts are, we, at WinBizSolutionsIndia, will do our best to deliver service that's not just prompt and efficient, but affordable as well. Whether you are looking to create digital sculpts for an inventor or an entrepreneur or you have to handle a large project assigned by a large enterprise, we have adequate bandwidth to support all facets of your digital sculpting project at industry-leading rates.
We have the right designers who can support you with diverse three-dimensional solutions for a wide range of requirements that may include a home redesign project, creation of video games, production of CGI films, and creation of 3D print models. We are champions at operating within strict and short deadlines, so you can just relax knowing that we will complete your project within your predetermined timeline.
Our 3D Sculpting Outsourcing Services for Various Industries
Over these years, we have evolved as one of the best companies employing top 3D sculptors and delivering world-class three-dimensional outcomes.
We have developed profound expertise in:
Jewelry

Our designers can craft exceptional and detailed 3D sculpts of jewelry, thereby creating design trends. They are experts at the use of CAD/CAM software and can sculpt digital models based on photo images, manual sketches, and concepts. We can efficiently transform jewelry concept into realistic 3D models, thereby helping jewelry designers and manufacturers in making the most out of 3D revolution.

Sculpture Designs

Professionals delivering 3D sculpting services can capitalize on state-of-the-art 3D modeling techniques to create tailor-made sculpture designs that are noted for their distinct identity in terms of patterns, details, and surfaces. We can create rich, elaborately-designed sculpture models, including 3D toy models, statue 3D models, etc., to help you build high-quality prototypes easily.

Movies

Our 3D sculpting services are widely utilized in movies as well. We can sculpt 3D CAD designs to represent various assets in the films in the most realistic manner. Be it a prop, character, or landscape, we have the right software and tools in our arsenal to sculpt models that look lifelike and appealing. Apart from that, we can help businesses to cut down the cost of production with our services.

3D Printing

We use a CAD software application to create 3D models for printing. We understand that the creation of 3D print designs is different from that of three-dimensional renders. That is why we consider a variety of things, like printing material guidelines, STL file resolution, printing technology limitations, minimum wall thickness, etc., to achieve precision and perfection for digital sculpting of 3D printing designs.

Gaming

Our sculptors can help with the creation of high-quality 3D model designs for games. We use the appropriate 3D modeling software to generate photorealistic images, characters, props, or scenes that can make the imaginary game world come to life. We also implement the texturing technique after the process of initial modeling to add more details to games and create an amazing experience for the players.
Apart from the above, our 3D sculpting services are also employed in other industry verticals, such as architecture, healthcare, advertising, automotive, aerospace, education, arts, and more. Over years, we have dedicatedly supported every client and help them to meet their business objectives.
So, outsource your needs to us and you assure you to deliver maximum return on investments. Still thinking if you should trust us with your 3D sculpting project? We are always ready to provide you with a free sample to help you evaluate if we are the right match for you.
Make your ideas come alive. Contact us to know how we can address your 3D requirements.
Contact Us