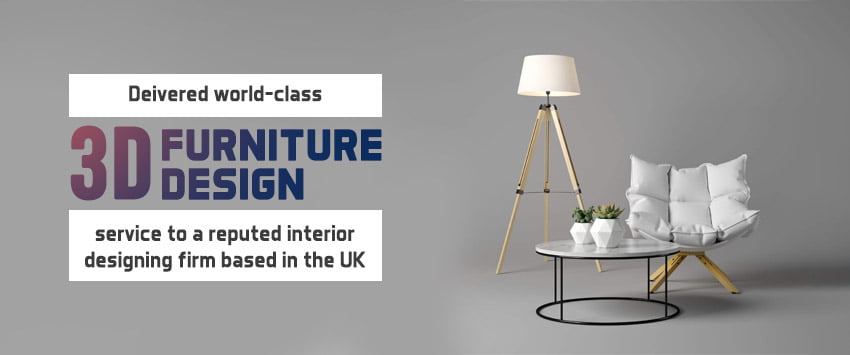 About The Client
The client owns one of the most reputed interiors designing firms in the Greater London area. The client was looking to create a strong online presence and boost their brand identity. The client earned fame by designing spaces creatively while addressing their clients' storage requirements efficiently and ensuring the creation of modern and highly-functional indoor spaces.
Moreover, the client was highly recognized for providing cost-effective interior designing solutions, thereby helping clients of varied budgets to make the most out of the firm's services.
The Requirements
The client was looking to get an online design library created. The library was expected to include images of completed projects, furniture designs, and new design ideas that were meant to be pitched to prospects. The client wanted to engage with a reputed provider of furniture 3D modeling services in order to get high-quality product visualizations and furniture 3D models created.
This also included creating 3D models of furniture that the designer could use in different designs of indoor spaces. They wanted the 3D furniture renders to portray the usability of a particular piece of space through the use of diverse styles of furniture. Their objective was to let customers know how their future homes would look like and how their preferred furniture items would fit into their spaces.
The Challenges
After consulting several service providers and even trying out the services of a few of them, the client contacted us and opted for our free trial offer to test our samples. When they were sure that we were the right partners for him, he signed up with us confidently.
The client wanted us to create 50 photorealistic 3D furniture renders within a span of 10 days. Our team faced the challenge of developing a proper understanding of unique design requirements of a certain geographical area while ensuring that the models could be converted easily into real, practical furniture items. We also had many of our key employees deployed in different projects, hence arranging right people for the project was a challenge as well
Solution
We kick started the project by quickly selecting some of our experienced 3D furniture designers to work on this project. We teamed them up with some of our new 3D designers who could bring fresh ideas to the table. They thoroughly read the design brief and the related instructions shared by our client and then they got grouped as per the specific activities that they needed to undertake.
This assembly-line type of setup enabled each activity of the 3D modeling and rendering processes to be completed with perfection. The team adhered to all the specifications with regard to colors, textures, measurements, and lighting. Initially, we created around 25 models of different types of furniture items and sent them to the client for review.
We used a user-authenticated FTP path to exchange files securely with the client. Once the client approved the designs, our team added the appropriate backgrounds so as to create lifestyle 3D imageries. We created high-resolution 3D furniture designs, which enhanced the appeal of the client's online portfolio.
Impact
The client was highly impressed with the 3D furniture renders that our team produced. The client could now create an awesome library of images that could be used to promote their services. They also used these 3D furniture images on various ecommerce portals and even got a selected few of them printed for company's print catalogues and brochures.
They were able to close deals faster by letting prospects have a glimpse of their design library. Their sales increased by 20 percent within the first three months of using the 3D furniture images in their marketing campaigns.
Outsource 3D Furniture Designing to WinBizSolutionsIndia
WinBizSolutionsIndia is a reputed provider of custom 3D design services. We, at WinBizSolutionsIndia, maintain an extensive range of 3D modeling services including product 3D modeling solutions and architectural 3D modeling services. We have the industry's most experienced 3D product designers working with us and they ensure that you get the highest quality of services from us.
We offer the most competitive rates in the industry, allowing our clients to get high returns on their investments and value-for-money deals. If you have a project to discuss, we are always ready for a personalized consultation session. Call us for a quote today.