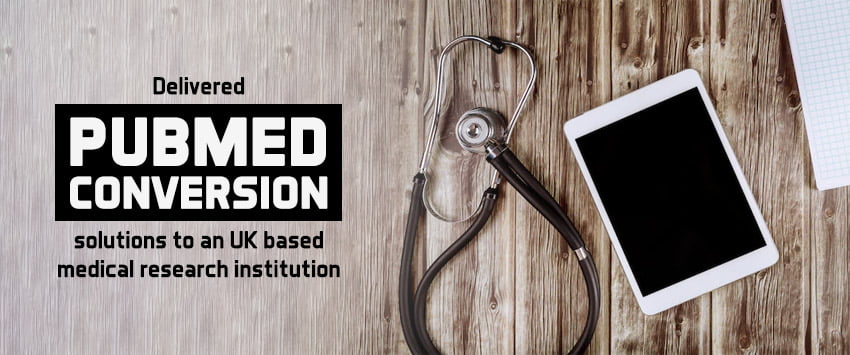 The Project
A reputed medical research institution in the United Kingdom wanted us to transform all its medical articles and journals as per the PubMed Central JATS specifications. The researchers at the institution asked us to follow specific XML tagging guidelines so that they could streamline their processes of article submissions to the PubMed Central Library.
The Constraints
The researchers not only sought XML conversion support to get their articles easily listed in the PubMed Central Library, but they also wanted us to create separate versions of their articles and manuscripts as per NLM XMS and Bookshelf XML formats. They wanted us to convert 400 manuscripts within a span of few days.
This was a quick turnaround task that demanded not only on-time project completion, but the delivery of high-quality outcomes as well. By the time the client signed up with us, a vast majority of our PubMed conversion specialists were already involved in a large scale project that was assigned to them by one of our long-term clients. So quick turnaround coupled with resource shortage created a difficult situation that made project execution quite tough.
The Solution
We first decided to form a team consisting of some of the senior professionals and new joiners as well. We allotted this project to some of the experts who were already working on the large-scale project for a limited time, after which they all continued working on their previous project. They not only kick started the project successfully, but also transferred knowledge to other team members who had lesser experience than them.
The team consisted of a total of 20 members and each member had to work on the conversion of certain set of manuscripts within set timeline. We completed the project 3 days earlier than the deadline and sent the deliverable to the client on the penultimate day via a secure FTP path in order to ensure data security. The researchers time to review the deliverables and come up with their feedback. They sent us a few review comments after couple of 2 days and our team took just one day to address them. The project was finally considered to be closed, as per the predetermined deadline for project completion.
Impact
The institution was able to get all its journals listed in the PubMed Central Library. The researchers appreciated the level of accuracy and the formatting standards that our professionals adhered to and they chose us as their only service provider from then onwards. Today, the institute is one of our regular clients and we work on its projects on a regular basis.
Outsource PubMed Conversion Services to WinBizSolutionsIndia
WinBizSolutionsIndia is a reputed provider of digital conversion services. We have the bandwidth to convert huge volume of manuscripts into the PubMed XML format, allowing research scholars and institutions to get their journals listed by the PubMed Central Library. Our professionals can convert documents into the NLM XML format and they have in-depth knowledge of formatting guidelines laid down by JSTOR, Commonwealth Scientific & Industrial Research Organization (CSIRO), and Centers for Medicare and Medicaid Services.
We have solid experience in converting your books into the NIH Bookshelf DTD format. We have a quality assurance team that guarantees that all our deliverables meet the international standards with regard to xml conversion and digital conversion as a whole. If you are looking for reliable PubMed conversion services, we would like to tell you that your search has ended. Contact us to discuss your project requirements.