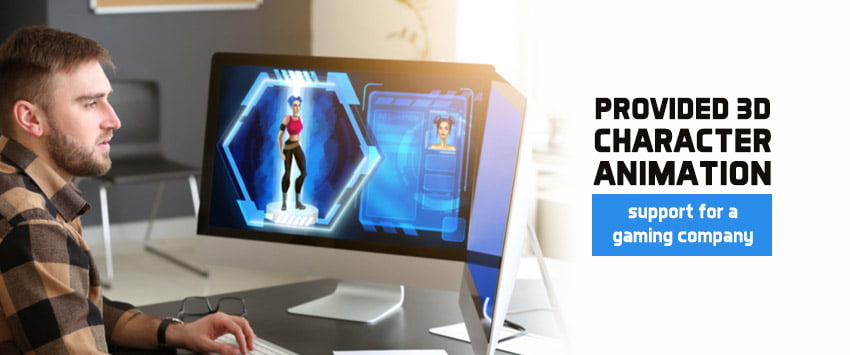 Client
A famous American company that had been developing game content for over a decade approached us with requirements related to 3D animation services, which they needed for an upcoming game that they were developing during that time. The client required our animation experts to create diverse animated expressions for numerous characters used in their game.
Requirement
The client was seeking an experienced 3D animation agency that could craft top-notch, precise facial expressions for a plethora of characters that formed a part of their game. They needed to get the expressions for several emotions based on how humans acted, reacted, and behaved in similar situations. The client informed us that they were in talks with several other professional 3d animation companies as well.
However, the client finally chose to work with us because:
We demonstrated expert knowledge and exceptional levels of creativity.
We created a variety of world-class, photo-realistic animatronics as a sample before taking up the whole project.
Along with the sample we made, we also created a 3D presentation incorporating various three dimensional animation projects and assignments that we had successfully completed in the past.
We were also able to offer competitive pricing to the client while assuring the delivery of high-quality outcomes.
Challenges
Though, being a professional outsourcing company for 3d animation services, we had prior experience in delivering top-notch 3d character animation services, we knew that this particular project would not be an easy task to handle given the fact that we had to accurately capture precise human emotional response.
We faced the following challenges:
The client was extremely keen on getting the expressions as much accurate as possible and he had a team to explain their requirements pretty comprehensively and so nothing less than the best illustration design could be delivered.
The game being developed by the client had several male and female characters from different socio-cultural and economic backgrounds and ethnicities, and hence, we had to come up with unique expressions for each of them while making sure that they resonated with their character traits.
As we wanted to deliver the best output to the client, we came up with a client-specific strategy considering the requirement and the levels of quality expected by the client. We carried out the task, following the steps mentioned below:
Our partner team consisted of 4 members out of which one individual oversaw the complete task carried out by the entire team and also monitored the quality of the outcome closely.
The team also interacted with the game-development team in order to understand certain aspects whenever they needed clarifications.
All the workstations assigned to carry out this project was equipped with the latest software so that the animators could create, edit, and make changes effortlessly. 
Results
The project was delivered within the timeline mentioned by the client and the client was profoundly satisfied with the commitment and the quality consciousness that we exhibited throughout the project execution phase.
All the expressions created were exact replica of human emotions and were life-like.
We were also chosen as the primary associate of the client to carry out several other 3D animatronics projects.
Because we helped the client save about 48% percent of their costs, the client became one of the most trusted and top-billing clients of WinBizsolutionsIndia in very less
Outcomes
The client happily opined that, the logo created by us creativity and exactly represented their brand values. They got beyond what they expected and the accuracy was 100%.  The same was their opinion in regard of the other marketing materials that we designed.
Impressed by the services we provided, they even outsourced us their client's work and the association is still going smooth and strong. Additionally, they even referred us to others.
We emphasize a lot on innovation and this helps us to stay separated from others in the industry through our remarkably creative services. Want to know more? Reach us right now!
Hire top-quality 3D Animation Services from WinBizsolutionsIndia
If you would like to associate with us and make use of our unparalleled experience, uncompromised ethics with regard to quality, and exceptionally-creative animating prowess of our staff, talk to us now and outsource your animation service requirements to us. As a comprehensive 3D animation company, we are equipped with the right staff and the right technologies to address every requirement that you will ever have. Our character animation, illustration, and graphic design prices are quite reasonable; we make sure to keep our clients' budgets in mind while designing service packages.