The process of 3D modeling and rendering has completely changed the dynamics of designing in the digital age. Not only does it help in improving the design accuracy and efficiency, but also helps the designers and customers to get a complete visualization of the product. Besides that, it has also played a huge role in affecting the way customers think and plan before purchasing a particular product or service. Now, they are more demanding, curious, and wish to see their profits before investing their time and money.

The process of 3D modeling usually involves the creation of a mathematical representation of the design object which leads to the development of a 3D model. 3D designers are often responsible for creating it. Once it is created, 3D rendering can be done to transform the 3D model into a high-quality animated model, video, or photograph. So, in order to move on with the pre-production and post-production stage, you are going to need 3D modeling software and 3D rendering software. Otherwise, you can even look for software that can support both. The best part is that most software available in the market usually comes with both functionalities.
Use of 3D Model in Various Industries
3D models are utilized by a variety of domains to support them with their3D design tasks. Here are some of its applications in the 5 major industries.
Architecture

Gone are the days when renderers used drawings and blueprints to showcase their houses or properties. Now, creating 3D renderings have become a necessity for every real estate agent if they want to market their properties and grab the attention of potential prospects. All of these can be easily achieved with the help of a computer, and new features like depth and motion can also be added to it to make it more interesting and captivating. Through technology like 3D walkthroughs or fly-throughs, clients can also get a complete view of the property interiors and exteriors. In this way, they will exactly get to know what's in it for them on the project.

Gaming

3D models are also evident in the gaming industry. With every passing time, video games are increasingly becoming more life-like. Be it the scene, characters, fast driving automobiles, or even aliens, the gamers want it to be more authentic than ever before. In that case, video game developers are putting their best efforts to integrate 3D modeling and rendering by utilizing the 3D design software to portray everything in the game realistically.

Entertainment

Another obvious domain where the incorporation of 3D technology is huge is entertainment. You will hardly find any movie or TV show today that does not employ it. It is widely used for adding special effects, creating supernatural characters that do not even exist, and bringing the imaginary environments to life in the most natural way. Besides, most people may not even realize that a lot of elements used in the movie were created artificially. 3D graphic artists are usually in charge of creating them by utilizing Computer Graphic Imagery or commonly known as CGI. Besides addition, you can also remove objects from the scenes.

Advertising & Marketing

Advertisers and marketers use it to portray their products and services in the best form to attract clients. Apart from helping them to render the products, it can also help them to save a lot of time and money. It is mainly possible due to the feature of 3D software that allows you to fix or make any changes in the designs without recreating the 3D model. In addition to that, marketers and advertisers can use the rendering to sell the product without even investing their capital for production.

Publishing

3D modeling and rendering are even popular among book publishers. It is commonly used for textbooks or books containing illustrations. It enables the publishers to present the pictures that they usually can't access. The reason being a copyright issue or simply because it is out of their reach. For instance, the pictures created can be either portraying something exceptional or anything that no one has witnessed, such as historic or future events.
List of the Best 3D Modeling and Rendering Software in 2020
Check out both the free as well as paid versions of the 3D design software so that you can use it appropriately for your project needs. We have divided them into two sections for both free and paid options to save your time and effort.
Best free 3D Modeling/ Rendering Software
Sculptris
Sculptris is the best software for creating digitally sculpted designs. It is a great starting point for the users who are new to the digital sculpting domain. Besides, it can also be used by professional CG artists to realize concepts in an easy and fast manner. It is based on ZBrush and is the most commonly used application in the current market. So, if are at the beginner's level, then first learn it with Sculptris, and when you are ready to learn the next level of detailing, you can move to ZBrush.
Blender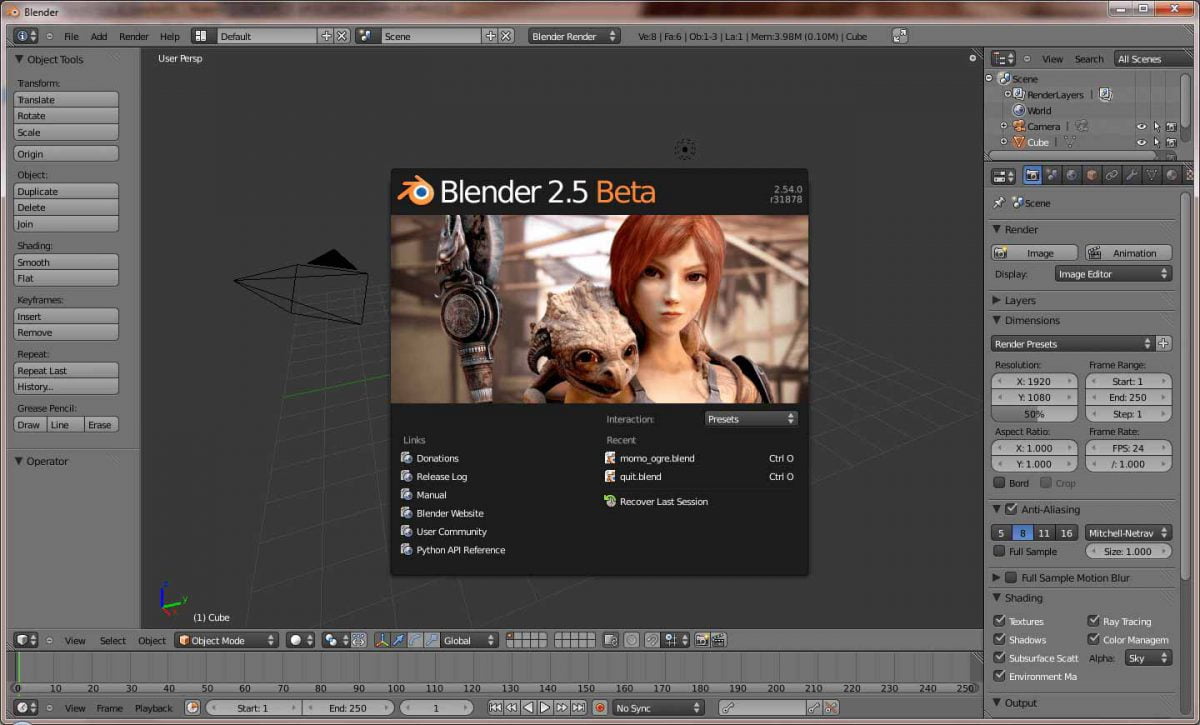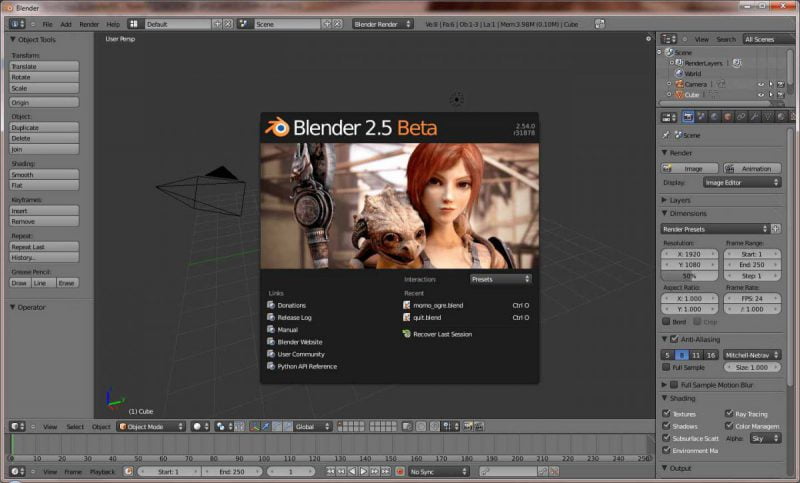 Blender is the buzzword in animation field and can be used to create three-dimensional visualizations. Small studios and professional graphic designers use Blender because it is open source and is cross-platform compliant. Blender is one of the most used animation software in the industry. Since it depends on Open GL for producing rendered outputs, consistency is ensured.
Houdini Apprentice
Houdini is more of a tool that is used for creating 3D animation and visual effects. It is widely utilized in the entertainment industry for films, TV shows, or broadcast. It is a best 3D rendering software free of cost, but also has a cheaper version that costs less than $2000.  It allows access to all of its features so that you can develop your skills to work on various projects. It is specifically designed for learning and non-commercial purposes.
Rocket 3F
It is a user-friendly and fast polygonal modeling program that runs only on Windows. Its user interface is professional-looking, customizable, and offers a wide range of toolset. It provides both a free and paid version. By using the free version, you won't be able to assign hotkeys or modify the UI. However, you can do that with the paid option, which will cost you around $93.
Fusion 360
Fusion 360 is creating ripples in the graphic design services realm of late. This can be attributed to the free availability of this state of the art software for amateurs, students, start-ups, and others who are enthusiastic about learning its features. The user interface is intuitive and easy to use. Workflow can be streamlined using the array of tools available. Fusion 360 offers the entire spectrum of features that you can never expect from the superlative free CAD software. All these can be attributed to the immense popularity of Fusion 360 among top notch and novice designers alike.
Daz Studio
The software normally retails at $249 but is now available for free download. It is a 3D customization and animation tool that can be used by artists of different skill levels. With this program, you can create a variety of digital art elements like designing virtual environments, developing high-quality graphic designs, creating custom 3D characters or avatars, etc. It also enables the users to choose from various 3D models of people, props, animals, vehicles, accessories, etc. to use them in their projects.
Hexagon
Another good free modeling app that beginners love to use is Hexagon. It was developed in 2001 by Eovia, and then Daz owned it in 2006. It is a basic subdivision surface modeling tool and offers continuous updates, thereby allowing users to enjoy a wide range of features. Even though Daz presents it as a tool for creating 3D models for clothes and figure props, it can still be used for making anything you want.
Wings 3D
Wings 3D is purely a 3D modeling software for 3D printing. It is an open-source tool that can run different platforms like macOS, Windows, and Linux. It is similar to that of subdivision modelers where you can use polygons to create an underlying form and then subdivide the mesh to craft a smooth shape. The user interface is somewhat unusual, but it is user-friendly.
Best Paid 3D Modeling/ Rendering Software
3DS Max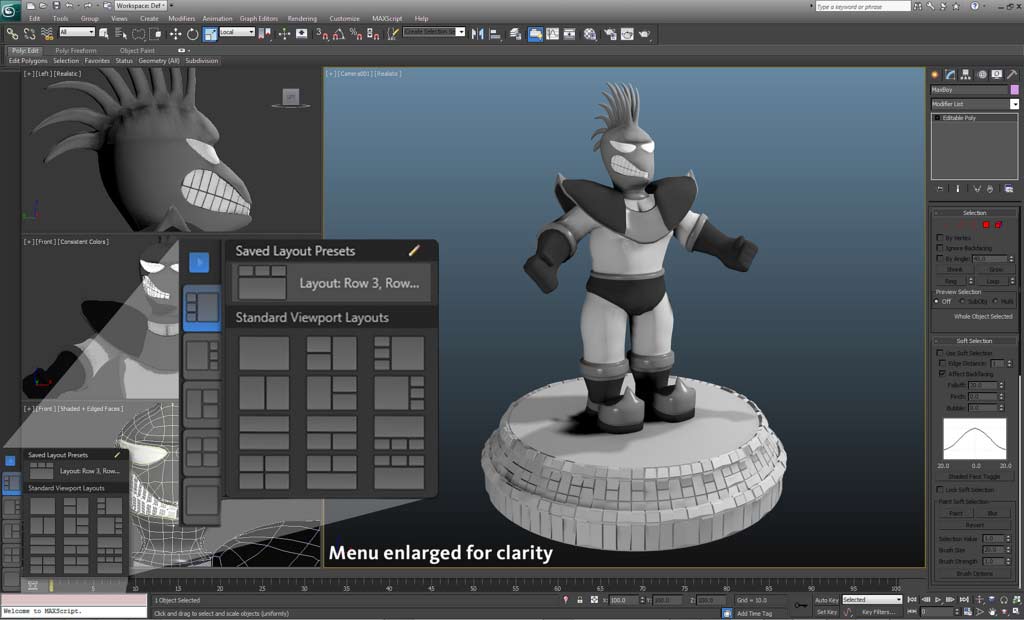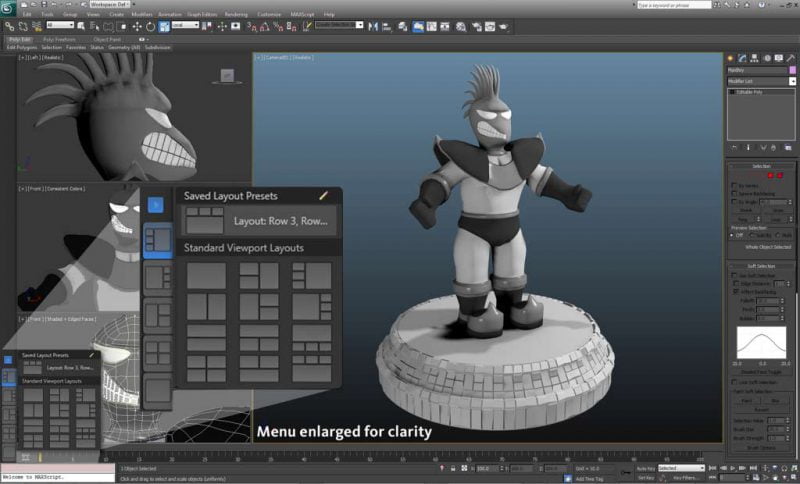 This tool helps designers to create collaborate and customize three-dimensional content seamlessly using its robust high-end software. It has lots of features and an ever-evolving customer support system with an active online forum to help professionals and amateurs alike.
Sketchup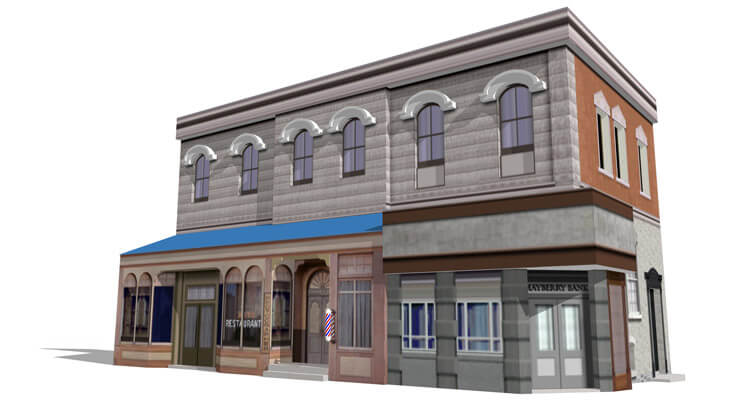 The process of learning is easy and fun filled in this renowned 3D modeling software. You can easily develop images and animated sequences in three-dimensional space to give definite shape to the ideas that are coming up in your mind or the way you have visualized. The entire sequence can be pulled off in a cool fashion. Amateurs, children, artists who only dabble in imaging or animation, and those who wish to complete their creative tasks quickly rely on this superlative tool.
AutoCAD
Since the release of its first version way back in 1982, AutoCAD as a premiere software for developing computer-aided designs in 2D and 3D has progressively gained in popularity due to numerous features offered. With the evolution of a number of other software in 3D printing landscape, AutoCAD of late is experiencing tough competition and had a difficult battle to fight to retain its popularity.
Zbrush
It has been mentioned earlier that niche products are having a difficult time maintaining themselves in the most happening 3D modeling software list. But that does not imply that the appeal of these powerful products is fading or they are no longer in demand. In the digital sculpting landscape, ZBrush is, by all means, the most sought-after software. The power-packed tools within the versatile software make it really easy to create complex figures, surreal creatures, and dynamic organic models.
SolidWorks
SolidWorks has a lot of craze in the engineering domain as it facilitates the creation of complex 3D designs really convenient. The emphasis is on a quick building of components, assemblies and sub-assemblies, parts and 2D designs. The only drawback is the high price at which this software is available in the market.
Autodesk Maya
Fusion 360 is creating ripples in the graphic design services realm of late. This can be attributed to the free availability of this state of the art software for amateurs, students, start-ups and others who are enthusiastic about learning its features. The user interface is intuitive and easy to use. Workflow can be streamlined using the array of tools available. Fusion 360 offers the entire spectrum of features you would expect out of a superlative CAD software deployed for professional requirements. All these can be attributed to the immense popularity of Fusion 360 among top notch and novice designers alike.
Autodesk 123D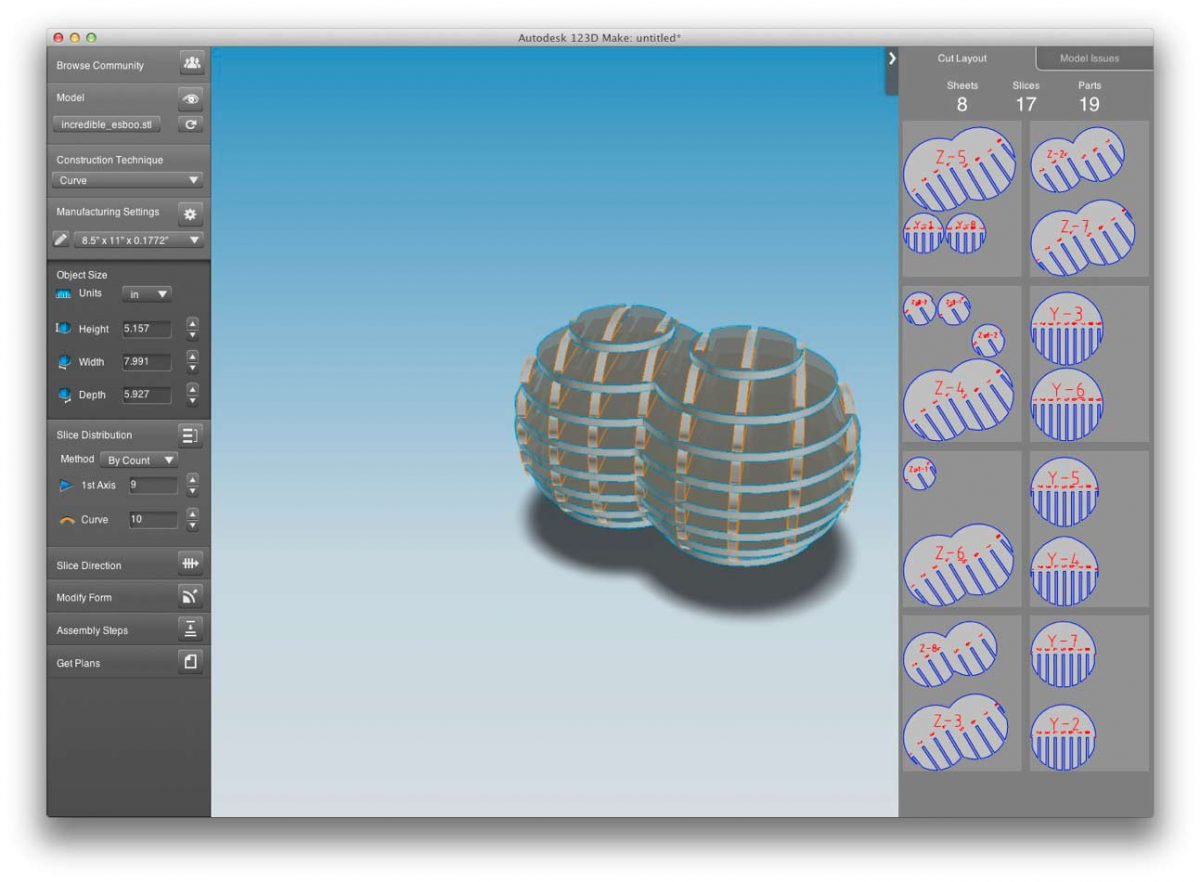 Maya 3D, a name to reckon with among various types of 3d modeling software available in the market, is also made available by Autodesk. It is a mainstream design software that offers the ability to model, animate, render and simulate 3D designs with relative ease. All tools offering complex functionalities are available under a single roof of Maya 3D. The features in Maya 3D would appear similar to those offered by 3DS Max to the trained eyes. But, the beginners of this program have to initially grapple with the interface as it is less user-friendly compared to 3DS. The program is extensively used for developing compelling video games, riveting animated motion pictures, and mesmerizing visual effects. A number of high-end tools are available for building characters and creating impeccable effects. The basics of the software can be learned from a number of credible sources.
Cinema 4D Studio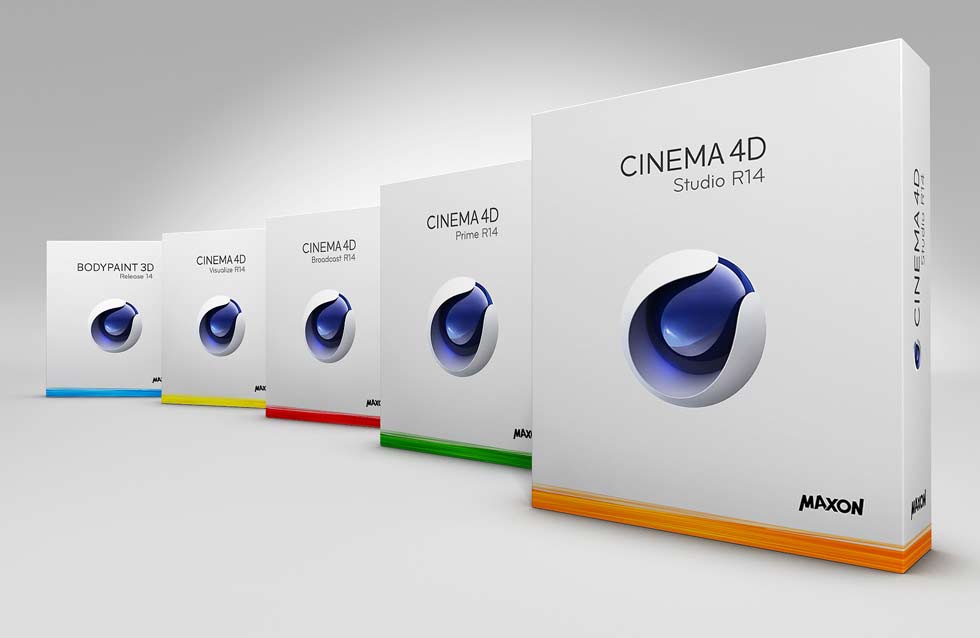 Cinema 4D Studio is an advanced 3d rendering software which helps to create action-packed animations. The tool is widely used to draw hair particles, characters, and a shattering of objects. It is achieved using the advanced Physics engine that boasts of an enhanced rate of particle motion.
K-3D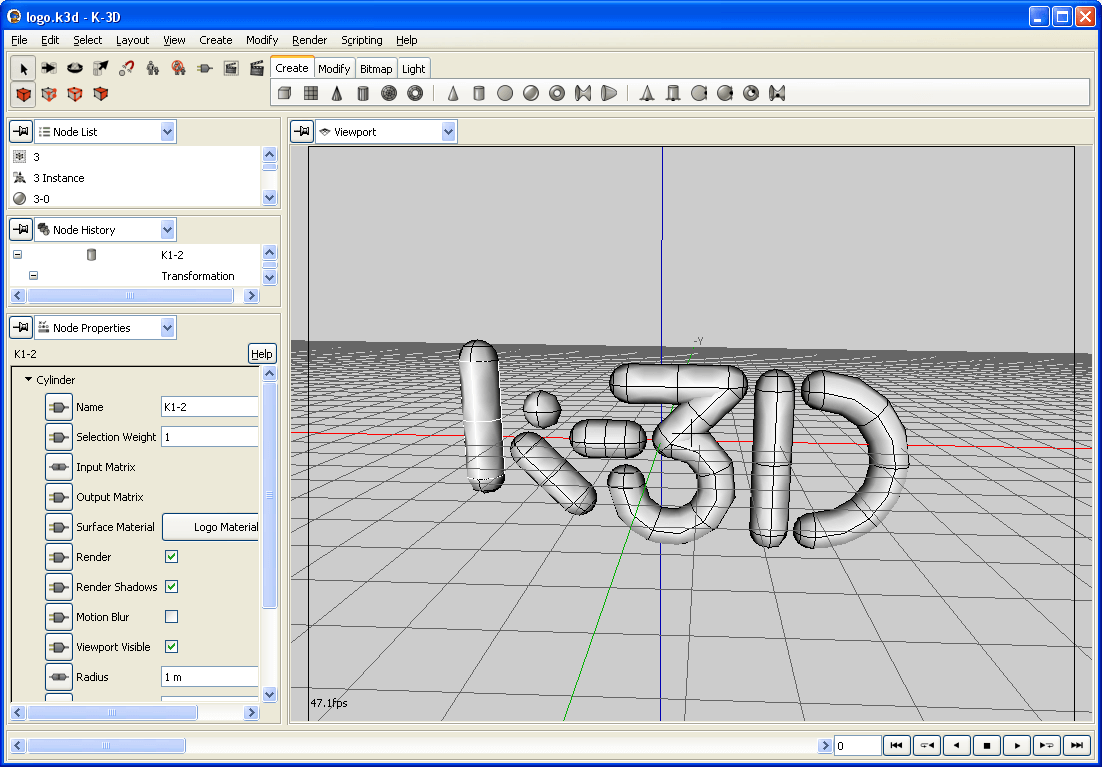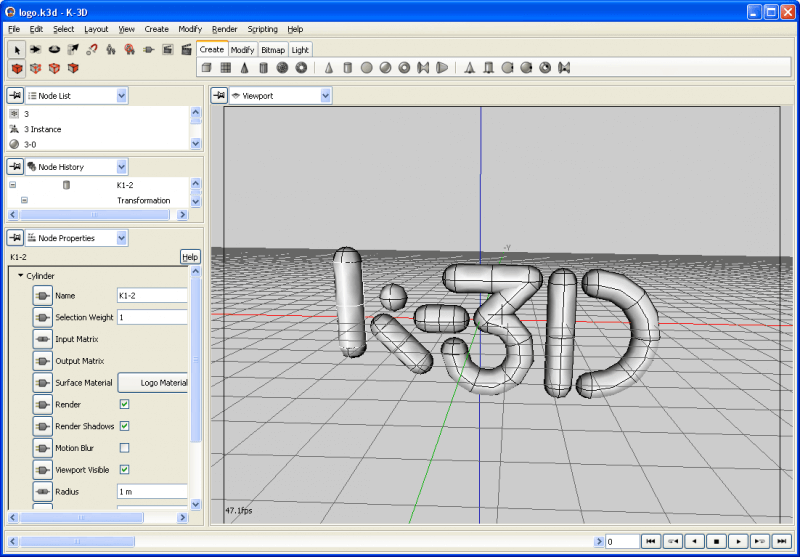 It is a unique and open-source modeling software with a plugin-oriented procedural engine at the back. It is a versatile tool for newbies and professionals alike. 3d design services depend on this amazing software to create stunning texture graphics since it is very friendly with Linux and Win 32 operating systems.
Revit
Revit from Autodesk is a specialized software dedicated for developing architectural designs and for catering to structural engineering related requirements particularly BIM or Building Information Modeling. The software prides itself on tremendous collaborative and works sharing features which allow users to carry out the entire spectrum of tasks ranging from developing conceptual drawings to analyzing sustainable energy sources.
TinkerCAD
TinkerCAD is a free 3D modeling software that makes it easy for beginners to master the tricks of the trade. It is user-friendly and simple to use and understand tools. Available as free application online, this program provides a host of essential fundamental designing tools that render the process of developing 3D models seamless and easier to the maximum extent possible. But the program was having difficulty in featuring in our 3d modeling software list initially because TinkerCAD offers basic tools which once mastered by the designers cannot help them out in advanced modeling projects. The users have to leave it behind and move ahead to other advanced platforms where sophisticated features are made available. This is a matter of amazement for us to find TinkerCAD on an elevated rank at number 10 in the 3D modeling software list just a few notches down renowned counterparts from the professional platform of Autodesk like Inventor, 3DS Max, Maya 3D, AutoCAD etc.
Rhinoceros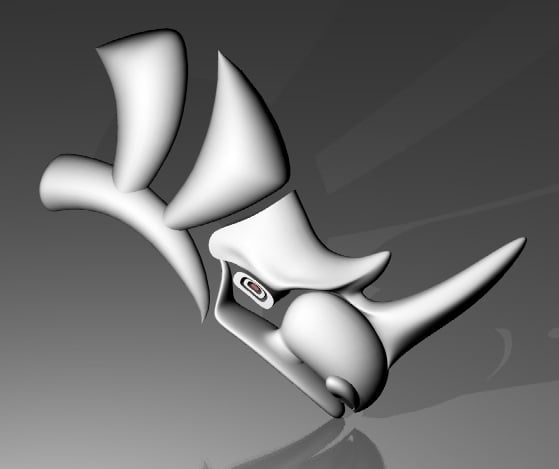 Rhinoceros is an advanced modeling tool that helps to create, edit and convert many modeled animations. Polygons, clouds, and curves can be easily manipulated using the three-dimensional viewpoint that it provides. Multiple viewports can be opened at the same time to provide ease of use and increase the overall efficiency by reducing switching time.
3D Stash
One of the best 3D modeling software for newcomers is 3D Stash. It is free and can run on Linux, Windows, Mac, and Raspberry Pi. The software uses building blocks to create shapes instead of the blocky videogame ones.
Beginners can get along with the software within a short time and create impressive 3D models. However, the drawback is that they cannot export or save it with the free version. The different file format it supports are FBX, OBJ, STL, etc.
Vectary
This free 3D modeling software is browser-based. So, it does not require any downloading or installation. It is best for intermediate users and can help with creating, customizing, and sharing 3D designs.
The UI of this free 3D modeling software is clean and instinctive. It also offers a tutorial at the beginning to help you get started with 3D designing and modeling. The software is usually a combination of parametric plugins, standard mesh modeling, and subdivision modeling techniques.
The 3D modeling and rendering tools mentioned in the list mostly have overlapping features on harnessing their potentials for different genres of product, environmental, and graphic designs. They can be used in a versatile manner in aforesaid domains. These applications facilitate the creation of multi-faceted designs that find useful deployment in a number of varying scenarios and landscapes. This makes it essential to ascertain from your clients straightaway about the desired application so that matching tools can be optimally and holistically leveraged. The needs of the clients may be varying. Some may require 3D designs for making compelling presentations whereas others may use them for analytical purposes to judge the viability of a complex design. The 3D models may be comprehensively scrutinized by clients to give a go-ahead to the production team. When you are handing over the finalized model to the client, ensure that the design of the product is delivered in a high-resolution file formats like PNG or JPG. You may also inquire if the 3D source files would be any help to them or they would need the files in other formats like PSD to be compatible with mainstream tools like Photoshop.
Top-notch 3D modeling software often has a steep learning curve. It can be a daunting task to gain complete mastery over the complete spectrum of tools that come packaged along with the software. However, the applications spell a host of advantages that can lead to a positive impact on the business sustainability quotient. Just like gaining the expertise of the software that comes packaged within the Adobe suite, learning the fundamentals and advanced features of 3D modeling applications can prove immensely beneficial in the long run. It is advisable to hone your skills on free 3D modeling software which are readily available for download online. Once you are proficient in the use of native tools of any 3D program, you can move ahead to advanced features and invest in costlier applications to take your business to newer heights of success. If not, you can always look out for companies offering 3D modeling services for professional assistance. Select the best one from the numerous 3D designing companies, and you will surely get the expected results.