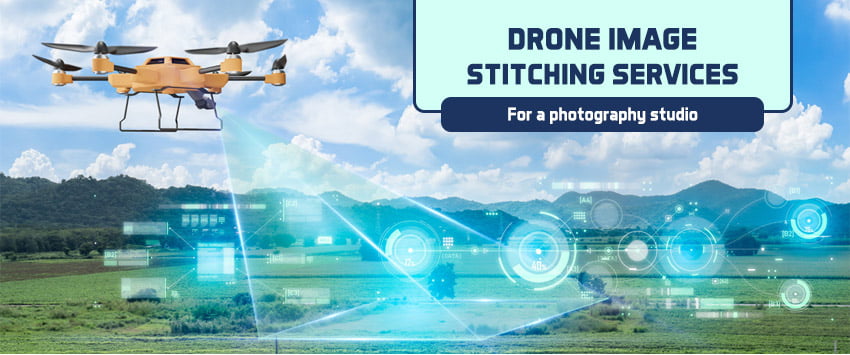 The Client
The client owned a photography studio and his specialization covered both ground and aerial photography. Besides, they also provided virtual tours.
The Requirement
We were approached by the client for stitching images captured by drones. Besides, we were also asked to develop a 360 degree virtual tour. A single team that could do all these tasks was difficult to find and getting a professional company at affordable rates seemed to be quite infeasible for the client. The client was really pleased when we put forward our proposal and quote. We have a lot of experience in the domain and, in fact, our experts had carried out countless image stitching projects. This is one of the main reasons why we were preferred by the client.
The Challenges
There were many challenges because stitching together snaps shot from a drone, which was a mobile device, was always difficult. Unmanned drones may generate images with inconsistent qualities. Alignment problems or any issue pertaining to color or lighting during the drone photo editing and stitching process can lead to a fall in the overall quality.
The Solution
To initiate the project, we initially offered a completely free trial so that the client could see if we would be able to meet his expectations while working on bigger, long-term projects . The client was satisfied and he granted us approval to proceed. We selected a group of 7 professionals to exclusively work on the project to ensure swifter and smoother project execution. By making use of specialized image editing software such as Autopano Giga and PTGui, our experts performed seamless drone image stitching.
The QA team verified the work and made sure that the stitching was flawless. Post that, these images were passed on to the video player supporting web browsing for generating an effective virtual tour.
The Outcomes
Our high quality image stitching services generated exceptional outputs within the client's budget. We succeeded in maintaining an accuracy of nearly 99% and were instrumental in clearing the backlogs of clients in minimal time period. This project was actually the beginning of a long term business association with the client.
In case you have any requirement related to aerial photo editing, we, at WinBiz SolutionsIndia can address your needs. The company specializes in complete and comprehensive photo editing services.  Though every client is equally important to us, we offer special packages for bulk orders.  Get in touch with us to know how we can help you. We are available 24/7.