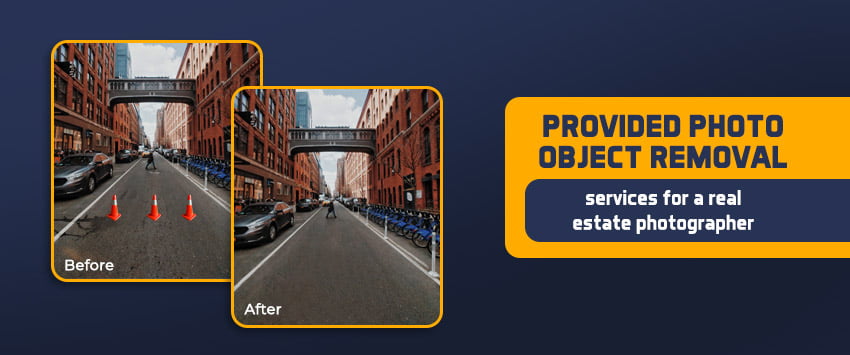 Requirement
One of the most popular real estate photographers of the United States contacted us for unnecessary object removal support. He was already aware of the standard of photo editing services that our Photoshop experts provided and so he had high expectations about the outcomes. He sent us the images of multiple properties and wanted us to remove unwanted images of objects such as electric wires, birds, poles, trash cans, etc. Apart from object removal assistance, he also needed basic photo retouching support to glamorize the look and feel of the indoor and outdoor spaces.
Limitations
We were given just 2 days to complete the post-processing work. The project involved high-end image editing assistance as the photo editors needed to remove unwanted objects that were surrounded by finer details such as part of roofs, clouds, etc, which needed to be retained. Secondly, the advanced retouching efforts demanded by the client needed considerable effort and Photoshop expertise. We had to perform color correction and perspective correction on majority of the images. We had several other projects and completing this task within a span of 2 days seemed to be quite challenging.  That was a festival time and most of our photo editors had gone back to their natives to spend time with their families because of which we faced staff shortage.
Solution
We requested some of our most experienced photo editors to involve themselves in the project. Even if they were in vacations, they committed to completing this project from their homes. This addressed our staff shortage limitation. We created a team of senior and junior Photoshop professionals to provide dedicated image editing support for this project. The junior members performed object removal and decluttering while the senior members conducted quality monitoring and performed advanced photo retouching as well. This resource allocation allowed for task completion within the deadline and the outcome quality could also be guaranteed.
Impact
The client was immensely happy with our team's work and the standard of our photo object removal services. He was not only amazed at the professionalism that they demonstrated when it came to meeting deadlines and maintaining a seamless line of communication, but he was pleased with the quality of the outcomes too. The professionally edited images also impressed his client, who was one of the most prominent real estate developers in the United States. The real estate company gave our client several other projects to handle, and our client engaged our photo editing services for the post-processing task. This led to a win-win deal for both WinBizSolutionsIndia and our client. Today, he is one of our most loyal clients, who outsource real estate photo editing requirements to us on a regular basis.