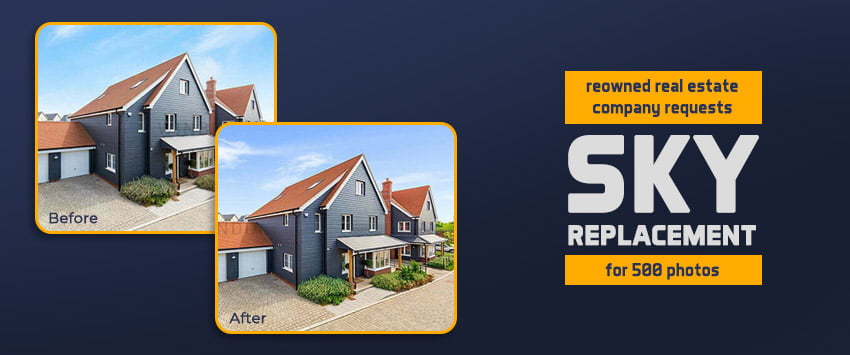 The Client- A Residential Real Estate Development Company in Sweden
The client is one of the top real estate companies, based in Norrköping, Sweden. They are popular for offering construction services but they also help with project management and property selling. The client strongly believes in creating environment-friendly housing that is not just pleasant to live in but also ensures efficiency, security, and good quality of living for customers.
Their services for real estate project management often include helping customers with the early stages of property development and designing, permit process as well as cost calculations. Additionally, they also help property owners and real estate agents to sell housing properties.
Being established in the year 2011, the client has a precise understanding of how the real estate business works. This enabled them to become one of the leading residential real estate development companies in their country.
Image Sky Change Services Requested by the Client
The client reached us via email and enquired about our photoshop image editing services. After understanding their line of work, we got to know that they needed assistance with architectural photography editing.
When they discussed their requirements in detail, we figured out that they mainly needed help with sky change and enhancement. Since they were a top-tier company, they expressed their interest in getting high-quality editing without any decrease in the quality of building images.
We agreed to it since quality and efficiency are what we aim to maintain at WinBizSolutionsIndia. Apart from Photoshop sky replacement, they also shared the following requirements for their project:
Complete sky replacement or masking of specific areas and enhancing them, depending on the need
Delivery of 500 images within a deadline of 20 hours while guaranteeing flawless photo editing
Ability to work with different raw image formats, mainly cr2 and dng
Knowledge of European standards for real estate image editing
Challenges we Faced while Working on the Project
The challenge we faced with this project is gathering up the photo editing team. We needed a team of 16 editors who can work on the project. However, we also had other projects in hand and we didn't want to neglect them.
After some discussion, we came up with the idea that we would select a team of 16 who will solely work on this project while the rest of our image editors will work on their projects. Of course, we didn't want to pressurize them, which is why we distributed the work based on priority.
Thanks to the cooperation of our photo editors, we could meet this requirement. Besides, we also took a few steps to ensure that the project was successfully covered on time.
We assigned the quality checking process to a team of 2.
A project manager was also assigned to keep their work in check.
Since the files were in large volume, transferring them through FTP was a must.
Process we Used to offer Top-Quality Image Sky Replacement Services
We took a customized approached to meet the project needs. As it was a large- volume project, we wanted to avoid rework as much as possible.
We discussed the project intricacies and came up with a plan that was also approved by the clients.
We divided the images into 2 groups, one that needed basic enhancement and another that needed advanced enhancements.
We began editing the files that needed basic enhancements first and then the ones that needed advanced editing.
We used a few techniques to enhance the images, wherever needed. We performed color correction, noise reduction, image sharpening, contrast and brightness adjustment, image straightening,
After the quality check, we sent them to the client for feedback. Luckily, none of them required revision.
Feedback of Clients
Clients contacted us after a few days and thanked us. They expressed their interest in working with us in the future as well. They were happy with the quality of work and our ability to meet the deadline.