If you are a business that runs through the internet, then you will need the videos to skyrocket your venture. The reason behind this is simple; it is always easy for your customers to grasp information about your business through this telegenic medium.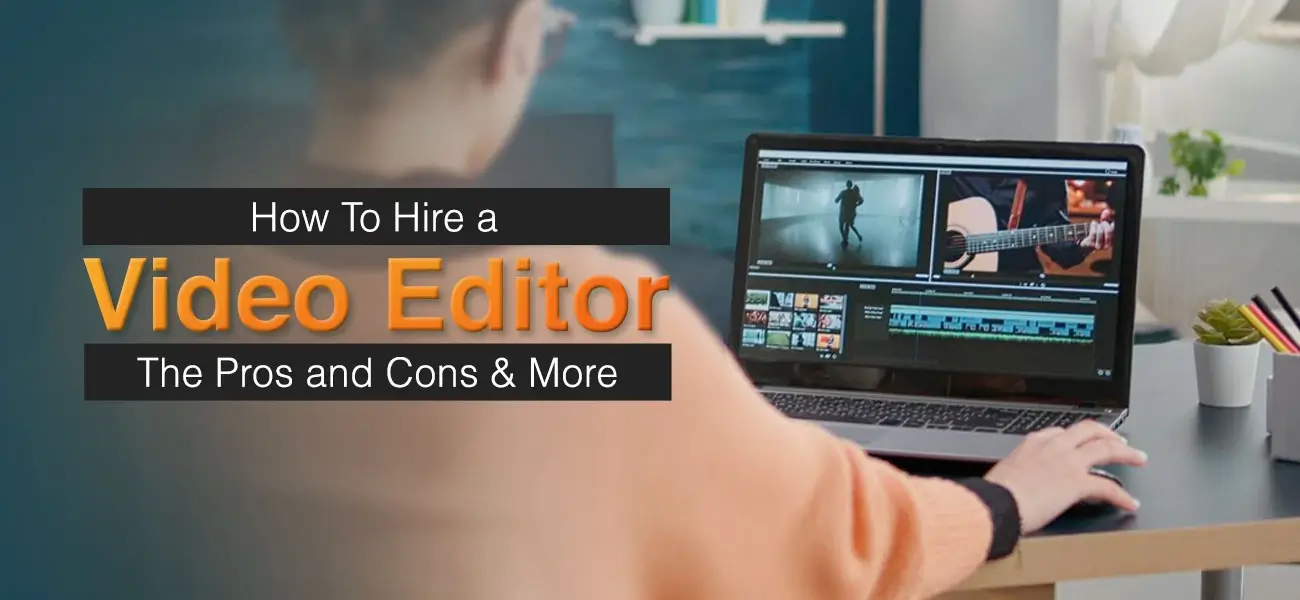 Video based content is taking over all spheres of providing information and business presentations, thus the need has emerged in a short span of time. Creating a video all by yourself can be a cumbersome process because it involves various stages from planning to execution and then the final result and you can't be the jack of all trades by creating videos and handling your business simultaneously.
Thus the need to hire a video editor emerges!
In this article, we have compiled all the information on how to hire a video editor and the pros and cons of video editing. If this is the topic you were searching for, then you are in for a delight!
Keep Scrolling!
Pros and cons of do it yourself (DIY) video editing

Before we talk about the video editor hiring, it is important to first discuss the do-it-yourself video editing part and the merits and demerits involved in the same. This is important to discuss because many business ventures believe in holding this job to them to get the best results, but for that they have to learn the skill first, which involves a hidden cost that sometimes goes unnoticed.

The Pros

A brand new and valuable skill is added to your arsenal.
Technically, it is a cheaper option, as you don't have to pay extra to anyone.
You can make a career out of it if you start loving the editing.
Knowing the basics of video editing software can help your business in many ways.

The Cons

Your schedule can be overwhelming as a creator and an entrepreneur.
Time is money because editing a single video takes a complete day.
It retrains you in content planning and creation.
You don't have years of experience, and it may reflect in your video quality.

This is the reason why it is important to have a professional video editor in place to bring that level of professionalism to the work that your brand and business actually require.

But the question is, who should I hire as a video editor?A freelancer, a full-time video editor, or a video editing company?

We have compiled all the pros and cons of these levels, and based on these, you can choose for yourself as per your needs.

Pros and cons of freelance video editing

Whenever you want to delegate your video editing work, the first thing that comes to mind is to get a freelancer to do the job for you. And in the present industry scenario, it is very easy to get a freelancer to take up the job because there are various platforms available where you can easily find these individual working professionals.

So let's analyze whether it is prudent to have a freelancer in place rather than looking for other options.

The Pros

project-based hiring, no contract, and commitment
If the quality of work doesn't match your expectations, you can move on at any time.
You can find top-notch video editors using freelance job platforms.

The Cons

Extracting the best fit from a slew of amateur applications is a time-consuming process.
A large roster of clients may compromise your project's priority.
Inconsistent availability may also hamper your video editing work.
Professional video editors come with hourly rates that are also on the higher side.

Pros and cons of full-time video editing

Currently, this is the least popular option among businesses that require video editing services. The reason is simple: the more advantages this option has, the more disadvantages it has.

The Pros

Becomes a part of your business
Full-time availability and smooth workflows with faster turnaround
They follow the brand guidelines, and you have complete control over the project.
The priorities related to projects are clear at first glance.

The Cons

In terms of a hefty salary, and is a bit complicated.
Tax and legal obligations are involved in hiring an in-house employee or a team.
Limited hours of work in a week and a lack of flexibility
Hiring an in-house employee or team comes with many hidden costs.
Finding the right person on a pay-roll basis can be time-consuming and costly.

Pros and cons outsource video editing

The last and final option is to hire a professional video editing company to get the job done on behalf of your business. These video editing companies or service providers not only follow your brand guidelines correctly but also remain available for projects around the clock. There are many merits and demerits to these services, as mentioned below:

The Pros

In terms of professionalism and efficiency, these services are industry-adjusted and efficient.
They have a proper setup, infrastructure, and a team of subject matter experts.
They work as a proper system that manages multiple clients simultaneously without compromising any
They have a complete 360-degree video editing portfolio to assist you as per your requirements.
They deliver results that are value for money as they follow a cost-effective strategy.

The Cons

The risk of choosing the wrong or an unprofessional service provider.
Before selecting a service provider, you should thoroughly review their portfolio.
Now that we have a complete idea of what option can work best for what type of project and for which business, it is time to gather some more knowledge on this topic that includes the extraction of time that video editing takes to give you a complete idea of what option will suit you best when it comes to choosing the best for your business.
How Long Does It Take to Edit a Video?
If you are a newbie in the video editing industry who wants to either edit the raw footage all by yourself or outsource the work to a professional service provider, then this question might arise in your mind: how much time does a video editing process exactly take?
Here is a simple yet appealing verdict: The editing work largely depends on the quality, complexity, and length of the source material.
Here are some scenarios using which we can extract the time taken in the video editing work:
Basic Video Editing

A simple video edit with minor changes can take up to 30 minutes to an hour.

Beginning to Advanced Video Editing

Simple cuts and a clear narrative structure allow for a quick turnaround with minimal editing.

Raw to Finished Video

Includes 10+ hours of editing, including edits from scratch and the addition of audio and video quality, special effects, transitions, voice-overs, etc.

High-end camera footage with color profiles

If you have footage generated from a high-end camera, your files tend to be large and may take much longer to transfer and render.
Similarly, when it comes to color profiles, the process includes additional color grading steps that might look stunning in the end but are time-consuming.
Skills and Experience of the Video Editors for Hire

Another major factor that contributes to the time taken for video editing is the skill set and experience of the video editor that you hire for your project or have in your in-house setup.
Conclusion
This informative source has come to an end with a note that whatever means you choose for your video editing work, they should be properly analyzed, keeping all the pros and cons in mind and from the point of view of your business.
No business should suffer cost-wise or strategy-wise when it comes to choosing an option for delegating the work burden. This is why, according to our research and analysis, the best option is to outsource the video editing work to a professional video editing company that provides 360-degree support in terms of planning, business strategy, and, most importantly, project completion within the given timeline.
There are a plethora of video editing service providers that are available to get the work done for you, but it is important to first scrutinize them by all the parameters mentioned above and then choose the best. Get highly skilled video editing services and to partner with us for hiring a new video editor. Reach out to us to receive highly professional video editing services and know more about FAQs on hiring a video editor. You can also learn more about our services and ask us questions.
You can contact us to get the best industry based support in video editing
Get a quote today