Are you attempting to sprinkle some variety in your photo editing process or wanting to stand out from the crowd? Or do you want some inspiration for your next photo manipulation project? Either way, you are at the right place and under the right guidance. To get a competitive edge over your competitors, keep experimenting with various photo manipulation ideas.
This list has a bunch of such techniques that both beginners and experts can leverage for their benefit. Keep scrolling!
First things first, let us quickly get the gist of the concept.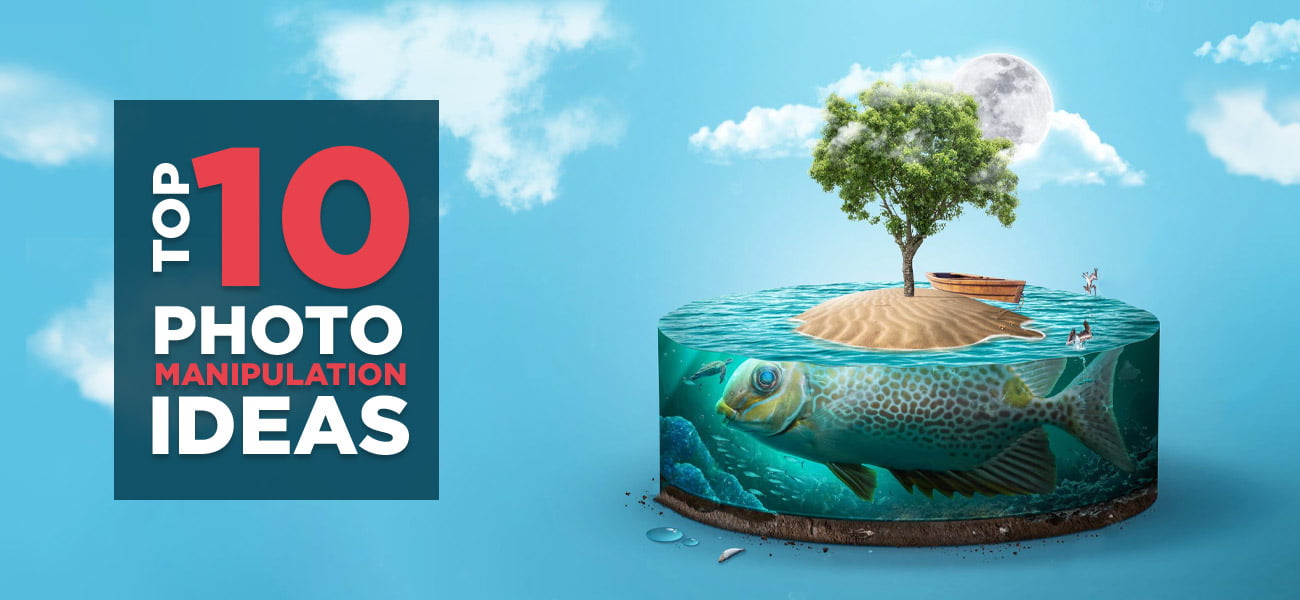 What is photo manipulation?
It is the process of transforming or altering an image using various techniques, thus adding variety to the original content of the image. The manipulations can be minor or subtle, or they can also be a drastic transformation.
With the advent of Photoshop, photo manipulation has become an integral form of digital art and has a wide range of usage – from real estate and fashion, to advertising and professional photography.
Intrigued much?
Here are the top 10 photo manipulation ideas to make your photo editing portfolio much more competitive!
Create a dual-world effect with the composite photography technique

Creating a dreamy, dual-world effect through composite photography is one of the best choices for photographers these days. In this image manipulation technique, the photo editor can juxtapose two different worlds, creating a surreal environment. The two photos can be the day and night skies, the ground and the sky, oceans and mountains, and much more. This technique helps create a great astrophotography.

Extremely talented Russian photographer Platon Yurich has created several out-of-the-world images with his composite photography skills. In some of his photographs, he makes the subject interact with the environment.

Try digital double-exposure images

If you want photo manipulation Photoshop ideas to try your hands at, this is your go-to trick. Try the double exposure photography effect in Photoshop, where you just need to upload the images as separate layers. Then stack the images one above the other, increasing the transparency. You can set the transparency level per requirement.

This technique is mostly used for magazine ads, music album posters, and so on. It dates back to the older days of analog cameras, when such photos were created by exposing the same film twice. With Photoshop though, the method has become uber simple. Luke Gram, the award-winning Canadian photographer, creates such fabulous double-exposure images.

Replace usual backgrounds with quirky backdrops

This is another one of the most creative photo manipulation ideas popular with ad photographers. Replacing the mundane, ordinary backgrounds with a more vibrant and unique one is a go-to trick to take an image one notch up.

However, the main challenge in such images is maintaining the right silhouette of the subject's shadow. The shadow must look natural and original. The high level of precision required in such photos can only be accomplished by professional photo editors with years of extensive experience in photo manipulation services.

Try the funky extrude photo effect in Photoshop

A winning photo manipulation Photoshop trick for portrait pictures, this can let you jazz up the subject to be photographed with a quirky headdress or headgear. It doesn't matter if the original photo has no such head covers; Photoshop textures easily help you turn your ordinary image into a crazy piece of art with its magic wand.

You may choose any material, color, or style for the headdresses, such as withered and crumpled paper, a wooden surface, old paint, or blocks of brick; you may also choose shapes like triangles or pyramids, pillar-like structures, and replace the original hair of the subject. Feel free to be as creative as you can be; only then will the final result you create make heads turn.

Glitch distortion effect is a great idea

The glitch distortion effect is pretty common nowadays, owing to its uniqueness. In this photo manipulation technique, one can distort the subject's appearance by manually corrupting the digital media. Because, as we know, glitches happen when the digital medium is flawed in any way. Photo editors can create a double-overlay effect, adjust colors, give dimension and depth to the subject, create a retro look with horizontal lines, incorporate neon elements, and much more.

The process can be tricky initially, as simulating a glitch effect, as well as keeping the aesthetic intact, are challenging. However, with some Photoshop tutorials here and there, novices and beginners can start their job. The wide usage of this technique is mainly seen in music covers and clips, social media images, fashion magazines, etc. Glitch photography and visual artist Sabato Visconti is a famous exponent of this photography style.

Try a tilt-shift effect with Photoshop

Tilt-shift photo manipulation, or miniature faking, is a unique process of taking an otherwise real-world scene and manipulating it to look like a miniature scene. Essentially, this effect is achieved by expensive lenses, but what do you do when you don't have the budget?

Switch to the magic of Photoshop during the image post-processing! There's a cool feature in Photoshop, the perspective warp, that creates the same tilt-shift effect that one can get through expensive lenses. There are also several professional agencies that you may contact for flawless image manipulation services at an affordable cost.

Mimic the retro look with a 3D anaglyph effect

If you want to go retro with your photo retouching skills and make your images look straight from 1950s 3D movies, you must try the 3D anaglyph effect in Photoshop. This makes the image appear to have two different colors, adding depth to the image and deceiving the brain into viewing the image as 3D.

You may create such a red and blue image by overlapping two of the same images, typically one filtered by red and the other by cyan. Make use of the RGB Color Mode in Photoshop and create cool anaglyph photos resembling 3D movies from the 50s.

Relocate landscapes and create surreal images

Often we dream of surreal scenes where the sea goes into the sky, the clouds are the white foamy waves of the sea, or the Earth's surface folds into a cliff. Well, these are no longer a matter of imagination but can be created for real. With a simple photo manipulation technique, a photo manipulation artist can blend two or more different images together and create an unearthly, yet stunning image.

Charlie Davoli and Jati Putra Pratama are renowned image manipulators who have mastered this technique and created numerous surreal and striking photos. With the help of Photoshop, you can also achieve similar levels of perfection.

Faceless portraits are a new trend!

Imagine seeing an individual with no face but just the outline of it. You'll probably shriek at first. But indeed, this photo manipulation has gained significant momentum in recent times among people who prefer quirky portrait photos. Hence, more and more photographers are using this technique while manipulating portraits. With Photoshop, obscure the eyes or the face entirely from the subject and replace it with other elements.

Tommy Ingberg is a noted portrait manipulation artist in this domain, and his creations have created much buzz in the artistic world.

Create surreal photo montages

You might have seen a famous photo of a road that continues as a violin's fingerboard, or a giraffe's long neck transforming into a long tree branch. All of these brilliant manipulations are achieved by overlapping two separate photos. Of course, the two must have some implicit resemblance and a certain aesthetic level. Only then will your edited image have a meaning.

If you have two or more photos of different objects that are similar in shape and color, then try this technique in Photoshop.
Parting thoughts
Undoubtedly, image or photo manipulation is a great way of expressing creative liberty and creating an unusual form of digital art; it also has several applications in the photography realm. The only challenge is to find the right ideas.
Now that you have this handy list of 10 photo manipulation ideas for an effective manipulation process, you may start your journey with Photoshop. With Photoshop, there's no limit to be creative in photo editing in your own way. Keep experimenting, and you will develop your skills with time.
And if you are facing any dearth of ideas or getting stuck with multiple projects, outsource image manipulation services to an expert team and keep your photo retouching worries at bay!