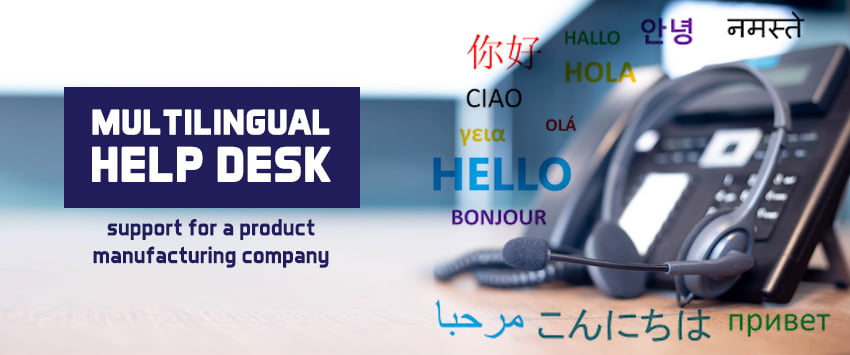 Client
A prominent product manufacturing company based in Colmar, France.
Requirement
To clearly understand the client's requirements, we had telephonic conversations with the company and obtained the maximum possible information. The manager of the firm mainly outlined the following needs:
Handling customers'calls in multiple languages in a professional manner
Resolving the constant turnover issues with appropriate resources
Reducing operational costs and providing 24/7 back-office solutions
Resolving customer-related queries with efficiency and perfection
Challenges
The client was facing serious customer service issues and was in critical need of improving the customers' level of satisfaction which had drastically fallen from the past one year. They even had a lot of foreign customers to deal with and faced challenges related to linguistic barriers. There were many customer queries which were left unanswered most of the times and the business was, in fact, on the verge of collapse. Their technical support center was not having proper infrastructure and enough personnel. The agents assigned for the task were not equipped with the needed domain expertise to handle customer-related processes. Their inbound multilingual call centers were inefficient and less productive and so they were looking for multilingual help desk support which could improve their customer service.
Solutions
The immediate requirement was to minimize the rate of call abandonment and increase the level of customer satisfaction. Therefore, our team designed a customized plan for addressing the immediate needs of the customers by providing world-class customer care service. Next, we focused on strengthening the brand by offering the self-service content and base material in multiple languages.
We made sure that the assigned team had all the required domain expertise and efficiency to handle even the most complex of the BPO processes. We also assured that they had language fluency and the required cultural understanding of different regions that they served. They were even trained to ask unambiguous questions to ensure that the customer fully understood the solutions they offered. With this approach, they were able to drastically reduce the turnaround time and offer remarkable multilingual support through diverse channels including internet, voice, and email.
Outcome
All the issues faced by the client were eradicated and the service exceeded the clients' expectations.
The average call answering speed shifted from 34% to 85%.
Extra expenditure on operations was reduced.
Call abandonment rate dropped from 16% to 5%.
Services improved and more products were manufactured.
Professional and timely approach elevated the customer satisfaction levels.
The overall condition of the client's business improved and this positioned us as the client's most reliable strategic partner. And with this, we added one more name to our long list of satisfied clients.
Need help with Multilingual Help Desk Support?
Contact Us