Losing a customer just because of the language barrier is unfortunate. In the present circumstances, it can be called unwise as well. With hundreds of companies offering bilingual call center services, failing to tap the opportunity means putting your business at risk. It is also likely that your competitors have already made deals with such companies. However, utilizing your needs for any customer call service is insufficient. Many have already outsourced to a call center and have not been successful. The only way to ensure benefits is to choose an experienced bilingual customer service provider.
WinBizSolutionsIndia offers the finest class of call center services, and apparently, bilingual support is one of the company's chief focuses. Prepared with profound knowledge and extensive experience, our bilingual call center agents can surely catalyze the growth of your venture by expanding your reach and increasing conversions. When it comes to providing bilingual answering services to clients, WinBizSolutionsIndia is equally adept at both inbound and outbound customer service.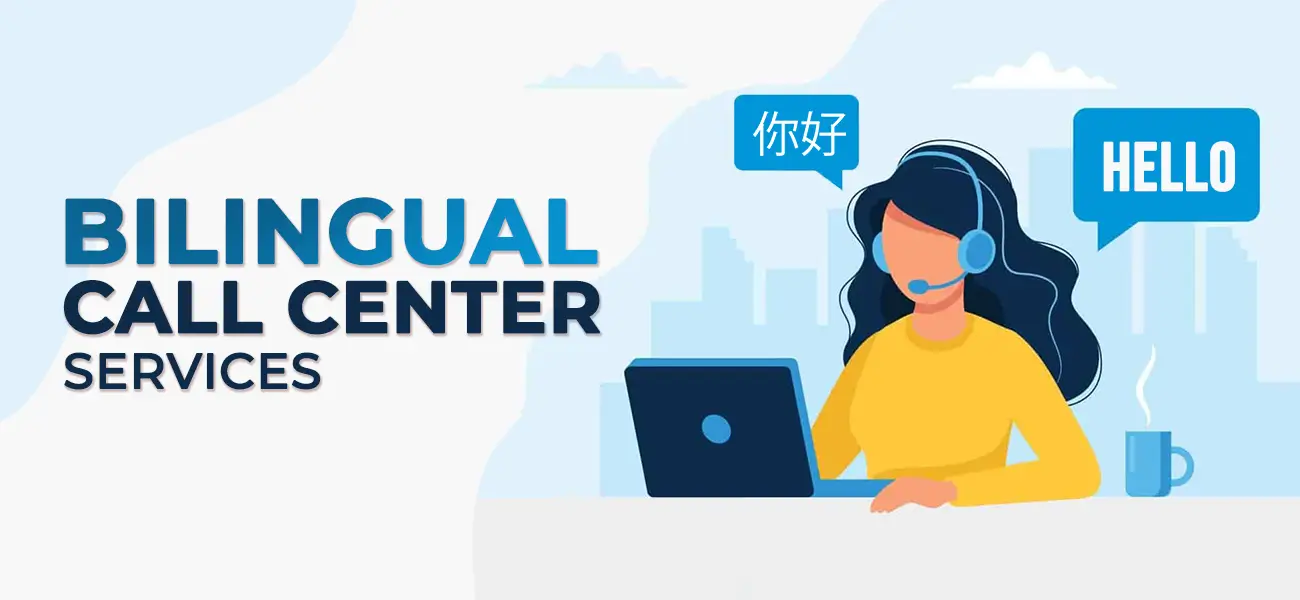 Importance of Bilingual Call Center Services
Though English is considered to be the global language, it is not dominant in many countries worldwide. Countries like Spain, Japan, France, China, etc. have their own language as the primary language. These are markets with huge potential owing to the huge population and many other factors. Customers in these countries are not that comfortable to speak in English and this can adversely affect your business growth.
Not only that you will not be able to persuade prospects by speaking English alone but also you will be devoting your productive resources to something futile or less useful. Chances to expand and reach more people are minimum if you stay to a single language.
Speaking in the native language of your prospects will send them an involuntary positive signal that your bilingual customer support is serious about their inquiries and values them. Also, such a gesture will gain you emotional favors which can be crucial in the decision making process. Besides, customer satisfaction level and overall efficiency will be drastically elevated.
Getting the best bilingual answering service never means you have to spend a fortune. The investment you make for outsourcing bilingual call center services will surely and swiftly come back to you as your business will increase immensely. And, our talented call center representatives will ensure you the same if choose us as your outsourcing partner.
Our Bilingual Answering Service Includes
Customer support outsourcing

Our bilingual staff speaks both local language and English for providing call center support to customers and address their needs.

Technical & IT help desk support

Our IT call center agents offer solutions related to the maintenance of computer systems or networks within the client's organization.

Order management

We manage the order entry and processing for businesses by encompassing support for billing & payment, product information, etc.

Phone answering support

We provide 24/7 telephone answering services to answer inbound calls so that our clients never have to miss a potential customer.

Sales support

We have the best sales representatives to boost the marketing efforts of clients by ensuring proper sales of their products and services.
Benefits of Outsourcing Bilingual Call Answering Service to Us
You will find a number of options to choose from when it comes to selecting a company providing bilingual call center services. However, there are reasons why WinBizSolutionsIndia is counted as a trustworthy service provider in the industry. One among the various reasons is our ability to offer the below benefits.
We provide round the clock call center solutions for clients all over the globe.
We can increase sales conversion with the help of our expert bilingual call center agents
We employ native bilingual professionals to support call answering service.
We provide bilingual phone answering services in English, Spanish (Español), French (français), German (Deutsch), Portuguese (português) ,Russian, and more.
Our call answering services are offered at cost-effective rates while ensuring quick response time.
We use state of the art call center infrastructure and advanced technology to meet the clients' needs.
WinBizSolutionsIndia has all of the necessary tools and resources to ensure an excellent call center service experience due to our bilingual call center services. No matter where your customers are, we will always be there to assist them and carry out the inbound and outbound processes, thereby opening up new possibilities for your business. So, don't let your location or language prevent you from reaching a global audience. Employ our services, and we will effectively help in establishing the best relationship with your clients and winning their loyalty.
Improve your customer satisfaction by hiring our bilingual call center representatives
Contact Us