A picture is worth a thousand words!
We tend to overlook how much money and time goes into creating the perfect flawless photos in this digital world. Images used for commercial purposes go through numerous post-processing stages before the audience can view them. Photo retouching comes in handy, and a mediocre photograph gets transformed into a masterpiece. But a major question that hits our head is how much retouchers charge per image? Image retouching plays a vital role in making images attractive in real estate marketing. However, when it comes to prices, they may differ depending upon the quality and clarity a client needs.
Learn more about how much to charge for photo retouching in this article.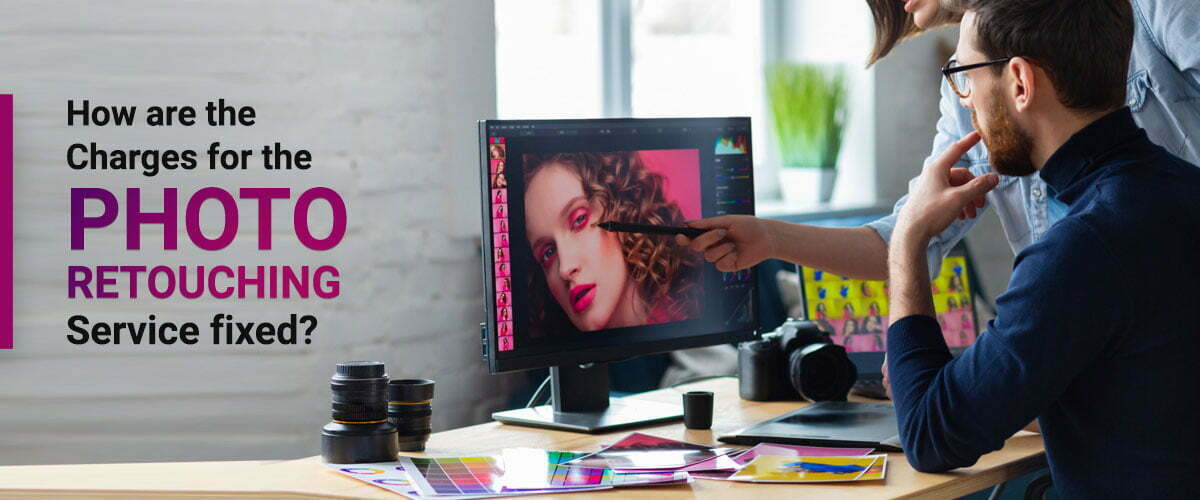 What is Photo Retouching
After taking the photographs, the major part played by retouching and editing should not be ignored. The term retouching is a bit similar to photo editing but involves using software to get perfect specifications as required. A skilled professional retoucher plays a crucial role in giving a natural retouch to the images. Professional photographers prefer to hire an image editing company instead of working on their photographs one by one.
What is the Difference Between Photo Editing and Retouching?
Photo editing involves changing subtle elements straightforwardly. It might range from basic adjustments in lights and color correction to a minimal extent. It takes less time and can be done quickly.
On the contrary, retouching is much more than editing images and involves the art of image enhancement. Skin smoothening, teeth whitening, lighting adjustments, background composition, etc., whatever you need, can be done with this technique.
What Are the Types of Photo Retouching?
Determining the correction level needed per image is the first thing you will have to do before moving forward. There are two types of retouching services available:
Basic photo retouching

Need only one or two corrections. This is the type of service you can opt for.
You will get color correction, adjustments in lighting, whitening of teeth, eliminating blemishes, and removing stray hairs. All are included in this basic type.

Extensive photo retouching

Want to make your photo look the best expect premium prices for this service
Suitable for weddings, fashion photography, etc. You cannot compromise on the natural feel but need to make your photo look eye-catching.
Here, you can ask for compositing of background, advanced correction of colors, skin correction, removing blemishes, adjusting lights, and comprehensive editing.
Why Hire a Service Provider to Carry Out the Process?
The biggest challenge a photographer faces is the amount of time spent on this process. Hiring a professional service provider can help you save time and money.
They can help you get high-quality results in a short period. Consistency and continuity are the major aspects that a professional service provider will have and an in-house team might lack. Their editors will have the perfect skill set required to use different software and make your image an attractive masterpiece.
How Much Does It Cost to Retouch a Photo?
Charges can depend upon the service quality, quantity, complexities, and decided-up delivery time. In the case of real estate photo retouching, a retoucher has to work more to improve the overall look and feel of the image to attract the buyer and motivate him to seal the deal. As it's a time consuming process, various pricing structures are planned. Let's understand the basic pattern of real estate photo retouching pricing structure.
Calculation of the Best Rates Depends Upon These Factors
Your efficiency and creative skills get paid, which will come from years of experience.
The difficulty level of the photo to retouch plays a major role in the rate calculation of the images retouching.
The volume of the images is a factor to be considered as it will impact your speed.
Quick turnaround time can increase the pricing structure of the service.
There will be numerous revisions, and you can set the number of editing rounds, setting the cost of the same in the overall price structure.
The use of free and paid software is considered while fixing the retouching price.
Delivery method whether you will be maintaining an online gallery or need mail prints. These things matter in deciding the price structure for this service.
Hourly Pricing
It might range from $50 to $160
Differs according to the service providers and the number of images to be edited per hour.
A kind of open-ended estimate and will not be profitable for extensive retouching.
Higher turnover and more creative fulfillment.
Pricing Per Image
The best choice is if you need to do different changes in one photo.
Calculation of exact effort and time for a single photo is possible
An incredibly straightforward method and a clear cut way to charge for your service
Clients can plan prior budgets with this pricing method
Bulk Orders Pricing
Suitable option for a repeating client
Charges are based on the pre-agreed fees.
A flat rate is convenient on the part of the client.
This works for both parties.
No matter how long it takes, a retoucher will give the specified quantity already agreed upon, and the client will pay that amount itself.
WinBizSolutionsIndia – A Leading Service Provider
Being highly committed to delivering comprehensive services, we are keen on addressing clients' requirements from diverse industries. We have talented image editors having deep knowledge in enhancing the beauty of your images, making them suitable for different purposes.
Suppose you are a marketing agent, a photographer, an e-commerce business owner, or a graphic designing company. In that case, our professional photo retouching services will be a perfect fit for all your needs. We help you in :
Background removal, repair, or modifications
Skin smoothening
Coloring Black & White images
Clipping path creation
Eyelashes adjustment and adding lip color
Hair and skin tone adjustment
Retouch & restore old pictures
Teeth whitening
Color and contrast correction
Removing wrinkles and blemishes
Makeup creation
Body slimming/ reshaping
Creating shadow & reflection
We offer top-notch digital photo editing services to global clients with advanced image manipulation techniques. Our price structures include different options covering personal as well as commercial needs.
Get in touch with us to understand our affordable pricing structures.