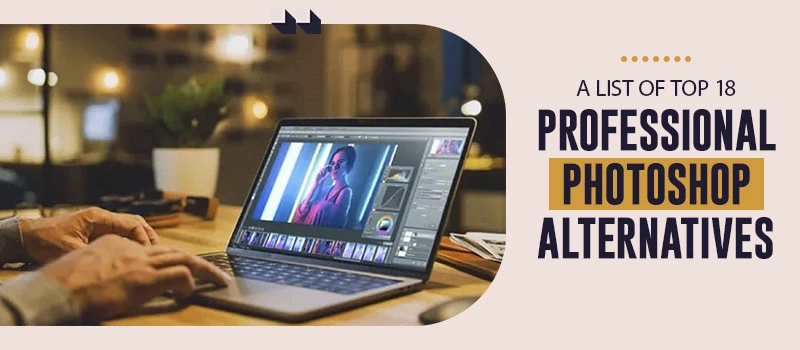 What is the first thing that comes to your mind when someone says photo editing software? Many will say Photoshop. It is because Adobe Photoshop is the most popular software and is widely used by professional photographers, designers, and companies to produce high-quality images.
But then why are we talking about Photoshop alternatives if it is the best in the market? An important reason is that the Photoshop subscription prices are on the higher side. So, if you are looking for some affordable alternatives that have similar features to Photoshop, then you have reached the right place.
In this article, you'll learn about some of the best free Photoshop alternatives that you can try out. Here goes the list:
This browser-based user-friendly image editing software has a collection of preset tools. The look-out feature of this program is Cartoonizer. It is an AI-enabled special effect tool that can change photos into paintings, cartoons, or sketches.

Colorcinch is a browser-based program. So, you can use it anywhere and anytime. Good internet bandwidth is the single need to run this software on all the OS like Linux, Mac, or Windows.

The package provides millions of high-quality stock photos free of cost. It also has hundreds of frames, overlays, and masks to use. You can use the rotate, crop, resize, and straighten tools to your benefit. There are many in-built options to enhance the look of the photos. This program supports PNG, PDF, and PNG file formats.

Affinity Photo

It is the immediate competitor of Photoshop that has all matching features. The subscription cost of this photo editing software is less in comparison to Photoshop. The software developers claim it to be the best alternative to Photoshop, and by far, it is true.

If your equipment has the best quad-core technology, then you can enjoy high speeds, less downtime, and nearly zero crashes. The software version is available for both Mac and Windows. But for an iPad, you have to pay for it.

The software has a comprehensive set of retouching tools like:

Dodge and burn, patch, clone, and blemish wiping tools
Frequency separation option for smoother skin retouches
Dedicated sculpting features

Photographers can now achieve a great level of accuracy with the use of,

Lasso and marquee tools
Brush and magic wand
Pen tool

GIMP(Image Manipulation Program)

If you have a limited budget but need the latest editing features, then GIMP is the best fit for your image editing needs. This high-speed and latest raster editor can be any of the following,

Tool for expert photo retouching
Image format converter
Simple paint program that has features such as airbrush, clone, brush, and pencil
Online batch processing system

This open-source software program is an excellent choice for photographers as they can run on Windows, Mac, and Linux with the same speed and efficiency.

Also, with GIMP, you can create customized brushes and patterns. It has the best photo editing tools such as curves, masks, and layers. This program supports file formats such as PNG, GIF, TIFF, JPED, and PSD like Photoshop.

Krita (works well on Mac too)

Krita is where flexibility meets creativity. Photographers, artists, illustrators, texture painters love its built-in art tools. It is an open-source software created by artists who aimed to have quality software at cost-effective prices. As they know about the industry needs, you can find more dedicated tools for the artists.

The popping color palette can enrich the color of your photos. Besides, you can access the most-liked colors and configure them in fewer clicks. You can import other artists' brush and texture packs and widen your toolset.

With Krita, it is easy to create shortcuts for the widely used tools. Also, you can remove the shakiness of the photo with brush stabilizers. If you are looking for free Photoshop alternatives that allow unlimited brush customizations, then Krita is for you.

PhotoWorks

This program strikes the right balance of user-friendly and impressive functionality features. It provides all essential photo editing tools for beginners and professionals.

The content-aware AI feature makes the landscape editing and portrait editing process simplified. The program has an intuitive UI that turns your dull photos into eye-catchy ones.

With hardware requirements, it performs well on even low-end PCs. It supports non-destructive editing as well as basic manual adjustments too.

The program finds its extensive application for portrait retouching. Its face-recognition technology simplifies the complex retouching processes.

Another attractive functionality of this program is the Face Sculpt feature. It helps drive facial retouching to the next level. You can also remove the unwanted objects in a photo with a few brushstrokes.

Pixlr X

It is the new version of the popular Pixlr image editor. The old versions had impressive features that made them the best Photoshop alternative.

Pixlr X is an HTML5 based-editor, so it works well on all browsers. It is this flexible feature that made Pixlr X appealing to global photographers. Besides, its smooth UI with dark and light color schemes makes them the most sought-after one.

It is an online image editor, and thus it finds compatibility with all leading operating systems. Pixlr X is a photo editing software with all tools to produce refined images. You can also use the curves and de-haze to enhance your photos or else use the Auto-fix tool to avoid over-editing.

Also, you can straighten, crop, rotate, flip your images with the related tools. It has a collection of stylish fonts that you can choose to tweak your photos.

Sumopaint

This free package provides the best design and functionalities for its users. When you need mid-range editing, go for its brushes, wands, layering, and editing tool. But you can avail yourself of all these features free of cost.

It runs as smooth as butter on Flash browsers as well as on cloud-based platforms. So, you do not have to go through the fuss of technical downloads and installation steps. You can easily become a member of the Sumopaint online community.

You can use its layer blending modes, color picker, brushes, clone stamping for your needs. This program supports file formats such as PNG, JPEG, GIF.

Photopea

It is a beginner-friendly program that is a web-based best alternative to Photoshop. When you have needs like resizing or cropping, it has high-speed editing time. With Photoshop, you have to wait for a long time for the image to load.

It has a powerful brush, a pen tool, and impressive blend modes. You can work with layering masks as you did in Photoshop. The only downside of this basic use best-fit program is that it displays ads on the screen side. It can be distracting when you need more focus on editing works.

It finds compatibility with all OS and supports CDR, Sketch, PSD, XD, and XCF formats. It is possible to export your files in SVG, JPG, PNG, and PSD formats.

Paint.NET

It is the digital photo editing program that was earlier a free replacement for MS Paint. At present, it is a solid and effective editing tool that is the best alternative to Photoshop.

You can open multi-documents in a single window and move between them with the tab button. Paint.NET also shows an image thumbnail for each tab with its related description.

The developers have put in much effort to make this program deliver blazing speeds for everyone. But the high speed does not mean any compromise on quality and performance. It, in turn, hastens editing time. Paint.NET has an in-built auto-update option that provides new features and bug fixes.

It supports gradients, rulers, and blending modes for many layers. The rotate and zoom function in three-dimension help in better image recomposition. Paint.NET supports DDS, BMP, TIFF, GIF, TGA, PDN, JPG, PDN file formats. Besides, it is free software for photographers.

Seashore

Seashore is GIMP-inspired editing software. It is a strong contender for Photoshop alternatives in the market at present. Also, it offers a user-friendly UI for Mac users.

The merging effects of layers help you to do image edits with a few simple steps. It also provides textures, gradients, and anti-aliasing for brush strokes and text.

If you are using a highly sensitive tablet, then customizing photos with this program is easy. Seashore supports GIF, HEIC, XBM, JPEG, TIFF, XCF, PNG, PICT, and PDF file formats.

Photo Pos Pro

It is an exclusive suite that provides all the exclusive features of Photoshop. These features help to make a photo look striking.

Photos Pos Pro is a user-friendly and easy-to-learn UI, which is hard to find in GIMP and Photoshop. When you want to ease off things, try turning on the novice layout button to help you do the need-of-the-hour editing work.

The professionals can turn the expert layout mode for manual curves and level adjustments options that fine-tune work.

The software has the following features:

Unlimited masks and layers
Clone and healing brush, magic eraser tool
Save the filters for future use
Spice up your photos with impressive frames and collages
Library of pre-designed extension packs
Manual editing tools

Photos Pos Pro is compatible with Windows and Mac. Also, it is free software for photographers.

Procreate

If you need the best painting app for iPad that has similar features but performs better than Photoshop, then Procreate is the expert choice for you. It is a professional digital painting app that has won the best Apple Design Award a few years back.

The collection of brushes, pencils, inks helps artists to sketch their visions. Moreover, these tools find regular updates that help to style up your artwork.

The Procreate Pocket, released in 2019, provides iPhone users with all the painting tools. It comes at an impressive subscription fee of £10.

The app has two drawbacks:

It supports only iPad mobiles and is not compatible with Android smartphones
There is no free version or free trial available for the users.

Acorn

It is a budget-friendly image editing software released in the year 2007. Acorn has provided the best editing features for professionals since then. The non-destructive filters, blending options, layer styles, curves and styles match up the Photoshop.

Acorn 8, the latest version, has the following:

Fresh Transform and Scale options
Creative use of emojis
Layer or images are editable with clone tools

The disadvantages of this program are:

It is compatible only with Mac OS
It does not have the photo organizer capacity found in Photoshop.

ArtRage

It offers artists customizable and realistic canvas textures, pencils, delicate watercolors, and conventional painting tools.

The minimalistic tool interface helps artists to have an expanded canvas space. After work completion, all popular tools start appearing on the toolbar section. ArtRage is the cost-effective and intuitive digital painting tool available for iOS and Android at £4.

The only drawback is that you have to buy a separate version for mobile phones.

Pixelmator Pro

The original Pixelmator has been the best alternative to Photoshop for years. But Pixelmator Pro is their latest version that has:

Fully functional single-window user interface: Here, the users can enable the hidden option to have distraction-free image views
Non-destructive image editing: Pixelmator 2.0 is the recent update with features such as tabs, full screen and split view that supports M1 Macs.

The only downside of this program is that it supports only Mac OS with limited features. But you can make use of the free trial before making a cost-effective buy of this easy-to-use software.

Rebelle

Rebelle is a professional painting program from Escape Motions. It helps artists create life-like artworks. Rebelle is cost-effective software that imitates the watercolor painting methods of Photoshop. Thus, it is a capable participant for the best Photoshop alternative.

The amount of water, drip size, blow length makes Rebelle deliver realistic paintings. Also, the tilt option helps the artists to run the paint in any direction that they desire.

Its latest version, Rebelle 4, has different photo editing features such as:

A staggering number of 170+ presets
Brush stabilizers
Unique oil and watercolor effects

The software aims to produce good results for the traditional media. The disadvantage of this Rebelle is that it is not compatible with mobile devices. But it performs well on Windows OS. It comes with a demo version but does not provide a free version for the users.

Sketch

It is a professional and popular graphics tool in the realm of web designing. This app has unlimited primitive vector shapes that can be zoomed to the minute details. The Vector and Pencil tool also helps to build basic geometric shapes.

Sketch has the following tools for photographers, which are much like Photoshop:

Style presets
Gradients
Color pickers
Layers
Functional plugins

Two drawbacks of this editing software are that it does not support raster editing and works well only on Mac OS.

Corel PHOTO-PAINT

It is an exclusive suite for image editing from CorelDraw. The program received its latest update in 2021 with improved tools for the following:

Vector Illustration
Typography
Layout designing
Collaboration

The suite works seamlessly on Windows 10 with the best monitor views. This software package is for Windows OS alone. Besides, its price is on the higher side with a few advanced features.
We hope that this article has provided you with the needed insights into free Photoshop alternatives. So, choose the one that best matches your needs and try it out today. If you're finding it difficult to get along with the software, you can reach us for our image retouching services.
WinBizSolutionsIndia is a reliable photo editing company and uses the latest image editing software to edit pictures. We have been serving the domain for years now and have gained enough expertise to deal with the most complex image editing requirements. So, get in touch with us today.