Adobe Photoshop has managed to remain as one of the top photo editing programs to date. Photoshop history dates back to the early times of the digital era when it was developed by two brothers, Thomas and John Knoll, in 1987. However, Adobe Systems bought the license from them in 1988 and since then, it has undergone numerous updates to evolve into a program that you know today.
In this article, we'll take you through the journey of different Photoshop versions so that you know how it has evolved from being a specialized program to becoming the industry leader today.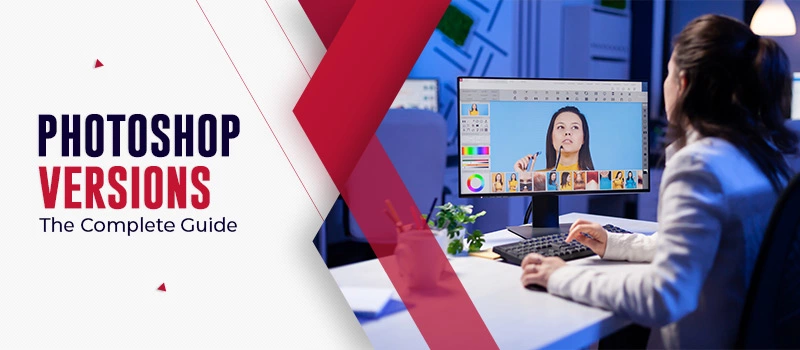 History of Adobe Photoshop
Today, Adobe Photoshop is the most powerful photo editing software. Everyone has heard of it, be it an image editing professional, amateur, or even a non-editor. The software is used by both professionals and beginners for basic photo retouching as well as complex website designing.
However, there was a time when the software was only used by professionals. It was because only the photo editing professionals knew how to use it and it wasn't much affordable. But, throughout the years, the software has developed and improved. We have seen many Photoshop versions, all of which had their own value and importance at the time. Now, let's discuss all of them.
Different Versions of Adobe Photoshop
Photoshop CS

This is officially the 8th Photoshop version and was launched in the year 2003. After many attempts to develop an official tool for photo manipulations, this was the landmark. Unlike the earlier versions of Photoshop, it had a smooth user interface and allowed good control over the workspace. Due to this reason, it became quite popular.

Feature Highlights:

Match Color command
Highlights and Shadow command
Camera Raw 2.0 addition
Real-time Histogram Palette
Hierarchical layer groups

Photoshop CS2

With the Photoshop CS2 version, it became to carry out non-destructive edits. Released in the year 2005, it swiftly took over the market and industries by storm. Besides, it was also the first version that offered custom presets. It was basically a more upgraded installment of the Photoshop CS version.

Feature Highlights:

Improved UI
Camera Raw 3.0
Image Wrapping Tool
Vanishing Point
Lens correction filter
Upgraded Soft Healing Brush

Photoshop CS3

This version of Photoshop experienced an overall upgrade and became more efficient.  It was released in the year 2007 and offered excellent control and management over the interface. There were many tools upgraded in this version, such as Refine Edge Tool, Quick Selection Tool, Dust Busting Tool, Fill Light Tool, etc.

Feature Highlights:

Multiple file format support
Enhanced vanishing point
Upgraded Adobe Bridge
Potentiated Black & White Conversion
Contrast and Curves Tool Enhancement
Image Stitching

Photoshop CS4

This Photoshop version had a user-friendly interface and was released in 2008. However, the upgrades were not much as compared to the CS3 version. Only minor enhancements were done to the working engine and workflow of the program.

Feature Highlights:

Adjustments Panel
Scaling with Content-Aware
3D
Canvas rotation
Introduction of tabs in the user interface
Improvements in Adobe Bridge

Photoshop CS5

Photoshop CS5 was the 12th version of the software and was released in April 2010. It went through a lot of enhancements and the main focus was given to the development of tools. The version also proved to be the starting point for better user-driven development.

Feature Highlights:

Auto-straightening
Video editing
3D brushes and materials
Shadow catcher for 3D objects
Content-Aware Fill

Photoshop CS6

Released in May 2012, the Photoshop version went through minor enhancements in its functions and toolsets. It was the last licensed version of Photoshop which was sold before the membership program with Photoshop CC was introduced. The automatic saving option was also first introduced in Photoshop CS6.

Feature Highlights:

Camera Raw 7
Vector and Design tool options
Background saving
Content-Aware Move and Patch
More video editing tools

Photoshop CC

In June 2013, when Adobe Creative Cloud was launched online, the program became from Photoshop Creative Suite (CS) to Photoshop CC (Creative Cloud).  Earlier, the one-off license was quite expensive. However, this application was more accessible. It could be accessed only with a small monthly fee.

Feature Highlights:

Camera raw filter
Intelligent up-sampling
Camera Raw 8.3
Cloud sync
Camera shake reduction
Smart sharpening

Photoshop CC 2018

This Photoshop version mainly focused on the development of functions and toolsets. In this version, more than 1000 brushes were included. Apart from that, the version also included enhancements to the masking capabilities.

Feature Highlights:

Improved Brush Tool
Copy-Paste layers
Eraser Tool
Select Subject Tool

Photoshop 2020

This version is the latest one and was released in June 2020. Due to some customer-reported issues, the version went through a few updates in between. The Select Subject Tool was faster and better while editing portrait images. With only a single click, the program was able to detect the person and refine the human hair selection with better detail and edges.

Feature Highlights:

Better Content-Aware Fill
Enhanced Lens Blur
Object Selection tool
Improved transform wrap
Improved lens blur
Proportional scaling

Photoshop 2021

Adobe released this version in February 2021. In this version, the new cloud editing functionality was introduced. Apart from that, the version also enabled users to collaboratively work on the same project by inviting other users. Another update was also released in May 2021.

Feature Highlights:

Save copy
Improved Neutral Filters
Collaborative editing
Which is the best Photoshop version for you?
To determine the best Photoshop version for your needs, you need to ask yourself a few things. Below is a list of questions that you need to ask yourself:
Are you an aspiring professional or a hobbyist?
Do you want to perform heavy image manipulation or can you add graphic designs to your photos?
Can you invest your time and money in learning an extensive software program?
If you are willing to spend money, how much money can you invest?
Each Photoshop version has different features which can suit different types of photographers. If you've figured out the answer to the above questions, choosing the right version will be easier.
For example, let's consider Adobe Photoshop Elements. This photo editing software can be used by both beginners and professional photographers. It offers advanced Photoshop tools and can help with easy editing.
Beginners can use the Guided Edits mode for photo editing. It will offer step-by-step instructions for performing common edits, such as color correction, background replacement, rotate and straighten photo merge panorama, etc. Due to these features, it is considered as one of the best Photoshop versions for beginners.
In case you're an advanced photographer, you can try out the Expert mode of Photoshop Elements. It will allow you to use advanced editing tools. However, if you compare Photoshop CC with Elements, the former has more features and functions than the latter. Therefore, we can conclude that Adobe Photoshop Elements is best for beginners and advanced hobby photographers. However, when it comes to a professional, it may not be the best option.
Hope that the article helped you to understand the Photoshop history as well as how to look for the perfect software version for your needs. However, make sure that you're willing to put in the needed efforts to overcome the steep learning curve. If you do it, the possibilities will be endless.
In case you still have doubts regarding the usage, then feel free to reach us. We can help you with any issue that you may have with the Photoshop versions or even with handling your photo retouching projects. To learn more about the types of photo editing services that we offer, you may visit our home page or directly contact us.