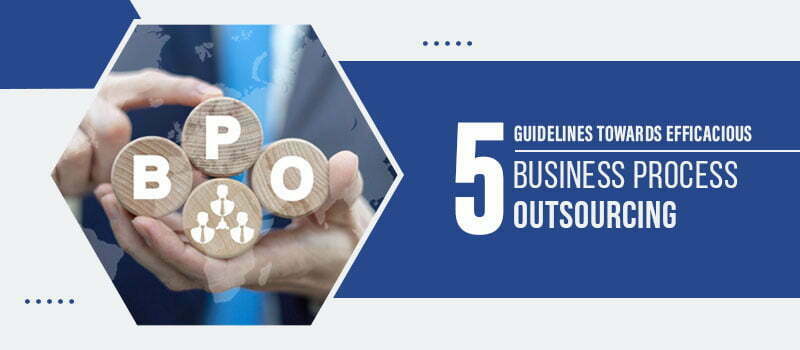 There are certain key areas which require special focus when it comes to outsourcing.
5 Tips for Business Process Outsourcing
Improvising transparent dealings

Successful and long lasting subcontracting relations require transparency in business. Clear, precise and efficient results for the giver and taker means more business is about to occur. This process is a cyclic one, it works just like a give and take policy does. Effective outsourcing is just like a step-by-step procession and it is not a swift process.

Finding a partner

Recruiting hubs cannot be depended just because of the fact that the only choose subcontracting partners without the full awareness of their details. Deep analysis of skills and knowledge is required to find the perfect client. References and trial services can be tested to get more details and check the feasibility with your needs. Business process outsourcing is crucial and this must always be kept in mind.

Define the achievement parameters

You cannot simply describe a candidate with the term quality unless or until you find him suitable. The same applies to recruiters also. They cannot find a single candidate out of the box to be the perfect partner to share your job schedule. But a pretty clear definition on what measurements are expected will help him to provide better service and even better business.

Outsource team controls

What the outsourcing services team does have to be monitored by the hiring manager. This necessarily doesn't mean that there need not be an interaction. There has to be some sort of contact to know the status of goals and quality partners but while mentioning a team or group it is wise to stay away from power struggles.

Relation with a twofold effect

Perfect relations are a contract between the hiring managers and yourself. If issues which are hard to bypass occur, they will require some sort of assistance which needs your attention. A sole account manager along with an outsourcing provider is the best starting pair. Further bonds can be built and strengthened on the course of the journey. Take special care in creating a harmonious communication stream. It will help to negotiate some significant issues.
Why We Need Business Process Outsourcing
Reducing costs

The primary objective of availing of business process outsourcing services was to reduce costs. Taking advantage of globalization, businesses have been able to get tasks done at a cheaper rate by people employed in offshore companies in emerging economies. This significantly reduces business overheads and allows businesses to increase their profit margins.

Expanding presence globally

With outsourcing, businesses can reach their target audience across the world. They can avail customer service from call centers from global call centers and respond to customers located in diverse time zones. By following a localized approach, businesses can create deep roots in new markets.

Improving flexibility

When businesses outsource their operations to other companies, they can enjoy the flexibility to scale up or scale down their operations based on project needs. Businesses can even change outsourcing service providers based on requirements or if their current vendors fail to adopt a flexible operational approach.

Improving efficiency

Companies providing business process outsourcing services have already championed the art of delivering services that they are providing support for. These companies have specialized systems, experienced employees, and optimized operations in place, which allow them to deliver efficient support to the client companies. Employees working in these companies have greater expertise compared to the employees in their clients' in-house teams and can deliver projects faster and more efficiently.

Enhancing core competencies

By outsourcing certain critical, specialized well as repetitive tasks to an offshore service provider, businesses can now focus on strengthening their core competencies and improvising on their services and products. Companies can now find enough time to focus on their best skills and deliver their best possible outcomes.
Success while contracting out a process means that business is a success which is one of the important goals of entrepreneurship. Social recruiting professionals and analysts are available upon demand from a lot of outsourcing companies out there.
Hope that the above tips for successful outsourcing will be of great help for you.