Photo editing software is an essential tool for organizing, optimizing, and editing digital pictures. There was a time when it was only used by professional photographers and photo editors. However, today, it is even used by casual users who merely take photographs with their smartphones.
No matter what your reason is, we bring you the 20 best photo editing software that you can use on your PC to edit your digital photos, organize them, select the best ones, and print or share them on the desired platforms. Let's begin with various photo editing programs and then we'll discuss which one is right for you.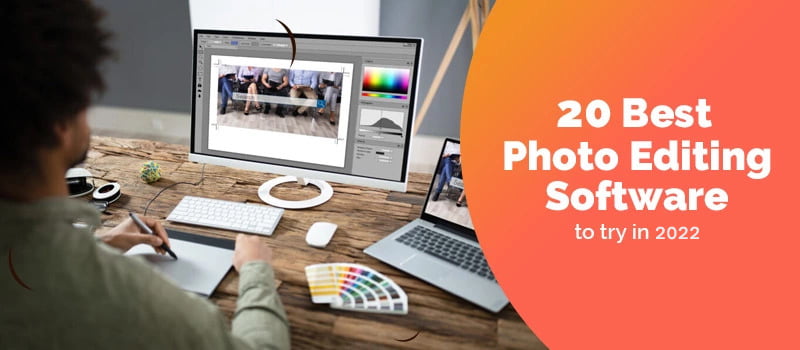 Top 20 Photo Editing Software for PC
Here are some of the best choices in photo editors for laptops or desktops in 2022.
Adobe Lightroom CC

Best known for: Color correction and batch editing

Adobe Lightroom CC works best as a graphic editor and can enable users to carry out batch photo editing and color correction with just a single click. If you're looking for a simple alternative to Photoshop, then this is the one. It is user-friendly and easy to learn.

Pros:

Automatic source-file saving
Multiple presets
Professional color correction ability
Enables working simultaneously with several albums and pictures

Cons:

Not best for professional image retouching
Inconvenient catalog system

Adobe Photoshop CC

Best known for: Standard photo editing

Adobe Photoshop is the best software for photographers and designers. It contains all the necessary tools to carry out varied image editing tasks, such as photo retouching, image restoration, color correction, digital drawing, designing, etc.

Pros:

Multiple file format support
Multiple filters, brushes, actions, textures, overlays, etc.
Forums and active technical support
A large number of photo fixing tools

Cons:

Complex user interface
Tools don't have a progress indicator

Skylum Luminar 4

Best known for: User-friendliness and in-depth color correction ability

This feature-rich image editing software for PC contains a lot of tools that can help you with advanced image post-processing. The developers also recently released the updated version that consists of excellent tools for color correction.

Pros:

User-friendly interface
RAW file editing
Enables editing in layers
Can be used as a plugin for Photoshop and Lightroom

Cons:

Requires time to master Healing and Cloning tools

GIMP

Best known for: Free photo editing

It is a powerful photo editing software that can be downloaded free of cost. One of the best advantages of using this software is that it supports working with RAW image files. It is an open-source photo editor for PC, thereby enabling you to change the program according to your use.

Pros:

User-friendly interface
Works with multiple file types
Variety of features and tools
Supports changing functionality

Cons:

The new version may have bugs

Capture One Pro

Best known for: All-in-one image editing features

It's a great alternative to Lightroom and has features similar to that of Photoshop. It is primarily used for professional photo retouching and color correction. Some of the tools that it contains can even offer better results than Photoshop.

Pros:

Well-developed masks and layers
A large set of tools and functions
Availability of cloud storage
Quick importing and exporting of files

Cons:

Can be a bit expensive
Needs good PC configuration
Has a difficult interface

PhotoWorks

Best known for: Different options to work with colors

This easy-to-learn and powerful image editor can be used by both beginners and professionals. It consists of three versions, i.e., Standard, Delux, and Pro, which users can select and employ depending on the complexity of their work.

Pros:

Enables creating excellent landscapes within seconds
Availability of watermarks and captions
One-click effect addition
Portrait retouching with a top-graded toolset

Cons:

InPixio

Best known for: High-quality color correction and photo organizing

It boasts numerous features that can help you handle top-grade projects, like real estate image editing or product photo editing. Aside from organization and advanced photo editing capabilities, it can also allow you to add special effects to your pictures.

Pros:

Professional clone stamp
Background cut out in different clicks
Semi-automatic color correction
Convenient perspective correction

Cons:

Doesn't support batch photo editing

PhotoDiva

Best known for: Faster beauty editing

This classic picture editor will enable you to perform the image editing tasks without much effort. With the advanced automatic adjustments and one-click effects, the software can make your pictures more eye-catching and appealing.

Pros:

Digital makeup options
Wrinkle and skin issue elimination
Experimentation with hair and eye color
Easy sculpting and manipulation of facial features

Cons:

ON1 Photo RAW

Best known for: Fast picture editing

It is equipped with powerful image editing tools that can allow you to eliminate flaws, correct improper color, and retouch photos. The interface may look a bit confusing at first. However, with a bit of effort, it will be easier to understand.

Pros:

Affordable price
Requires only a one-time payment
Has the simplicity of Lightroom
Offers a variety of parameters like Capture One
Employs a new approach for photo preview
Offers monthly trial version without any subscription or long login

Cons:

Only a few original presets
Exporting in background mode is slower

Pixlr Photo Editor

Best known for: eCommerce photo editing

This software is almost the same as that of Photoshop. It can offer excellent support for image enhancement and comes in three different versions, such as Pro, Editor, and Express. It is also an excellent choice for beginners.

Pros:

Easy-to-customize interface
Easily portable
Layer and mask support
Can open photos from URLs or desktop

Cons:

Canva

Best known for: making green cards and collages

It is an excellent photo editor that can also help with graphic designing tasks. It comes with hundreds of readymade layouts and drag and drop features. However, as compared to the automatic photo editors, it may not be considered strong since it contains minimum functions.

Pros:

Works well with designing
Stock photos
Design templates and tools

Cons:

Only works with JPEG file formats
Not suitable for photographers

Photo Pos Pro

Best known for: Easier background removal

The free photo editing software can cover the needs of both experienced image editors and novices. It provides an amazing user experience with two interface options, where one can be used by beginners and another can be used by professionals.

Pros:

Best for both beginners and professionals
Works with RAW images
Availability of tutorials and guides
Layer support
UI design options
Huge gallery of collage templates and frames

Cons:

iPiccy

Best known for: beginner-friendly photo retouching tools

It is one of the popular photo editing software on the web and is available for free. The interface design of the free photo editor is bit outdated and simple. However, it possesses a wide range of tools and functions for image editing.

Pros:

All tools are free to use
Various color correction tools
Clone tool
Dodge and burn tool

Cons:

Takes more time
Too many lags

Online Photoshop Editor

Best known for: having professional tools in the browser

The editor contains numerous features which you may find in any other online image editor. Mastering this editor will be easy if you are already familiar with GIMP or Photoshop. It's because they have identical controls, toolbars, and keyboard shortcuts.

Pros:

Multiple file format support
Layer support
Advanced editing tools from Photoshop
No advertisements

Cons:

Paint Net

Best known for: Simplicity and reliability

This free raster graphics editor will not only help with basic photo editing and color correction but also with the creation of logos and banners. Apart from that, it also contains many tools that can be used for digital painting.

Pros:

Convenient and easy-to-use
Clean and organized user interface
Various functions and effects
"How-to" tutorials and online

Cons:

Doesn't have burn and dodge tools
Allows limited brushwork

BeFunky

Best known for: batch editing directly in the browser

With this tool, you can carry out general actions, such as exposure adjustment, cropping, color enhancement, etc. along with basic image editing. It contains a lot of functions. However, most of them can be available only for money.

Pros:

Many useful image editing tools
Downloading stock photos in the program
Saving work and continuing later

Cons:

Most tools are paid
Lots of advertisements
90% of designs and effects are closed for free use

Ribbet

Best known for: Enabling selective color correction

This software is quite popular among beginner photographers. It contains a multitude of features and supports a wide range of file formats. Apart from that, the software also offers effects, which can help you add a special charm to your photographs.

Pros:

Fast color correction
AI tools
Recovery elements

Cons:

No support for RAW files
Premium features

Leawo Photo Enhancer

Best known for: Batch photo processing

This advanced photo editor contains AI-driven tools that can help you to carry out various photo enhancement tasks. With its aid, you can improve underexposed or overexposed pictures, fix improper lighting, remove blur, add tints, etc.

Pros:

Streamlined interface
Requires less hardware
Simple photo enhancement tools
Value for money

Cons:

Upgrades are paid
Doesn't offer granular control

Affinity Photo

Best known for: being the perfect photo editing software for Mac

It is another raster graphics editor that boasts a large number of photo editing and color correction tools. The photography software consists of nearly 60 configurable filters, effects, brushes, and more. Besides, it is also equipped with a real-time display function.

Pros:

Simple interface
Multiple basic image editing tools

Cons:

Limited options for photo retouching
Some poorly developed tools

Movavi Photo Editor

Best known for: Beginner use

With this graphics editor, you can ace advanced photo editing techniques without learning complex programs. It offers a variety of useful features, such as contrast, brightness, and sharpness settings, object removal tools, addition and customization of text, etc.

Pros:

Simple UI
A large number of filters
Doesn't demand resources
Popular graphic format support

Cons:

Not compatible with mobile devices
Allows to use free version only for a limited time
Which is the Best Photo Editor for You?
The photo editing programs used by novice editors will be surely different from the ones used by professionals. However, above we have included the photography editing software for all levels of users. By going through their descriptions, you'll get a clear idea of which one to choose.
Besides, there is no such rule stating that pros can't use entry-level applications or beginners can't use Photoshop, which is the most powerful photo editing software. So, the point here is to choose something which you are most comfortable with.
Also, we would like to say that the order of the list or the number of pros doesn't mean that the software is better. All the programs that we have mentioned are good and they possess excellent features that will be beneficial for your image post-processing projects.
Those who have just begun their career in image editing or are looking for simple photo editors for PC will find this list of photo editing tools useful. It's okay if you don't understand how each one of them works. You just have to focus on the one who is easier for you to handle and works best for you.
All the software we've mentioned is available for free downloads. If not the complete version, a free trial period will be surely available. So, make a choice and start working on your photo editing projects.
In case your projects are giving you a hard time, you can choose our photography editing services to receive professional aid. WinBizSolutionsIndia holds extensive experience in photo editing and retouching and will always deliver outcomes that perfectly fit the industry standards.