WinBizSolutionsIndia helps your business grow beyond English speaking regions and generate appeal among diverse linguistic target audience. With our dedicated French call center support services, manage and assist your French customers and native speakers in their language. Our proficient French customer support team is equipped with professionally trained expert professionals who are fluent in writing and speaking in French to the native speakers of the language.
With our robust call center infrastructure, clients can trust us for executing and commissioning their ambitious expansion and diversion plans. We interact closely and periodically with them to discuss the project needs and strategies for the successful rendering of projects. We also offer the advantage of providing scalable resources that can be adjusted to meet the changing need of the clients. Besides, the hiring modules are flexible and cost-competitive which fit the client's budget with no hidden charges or cryptic clauses.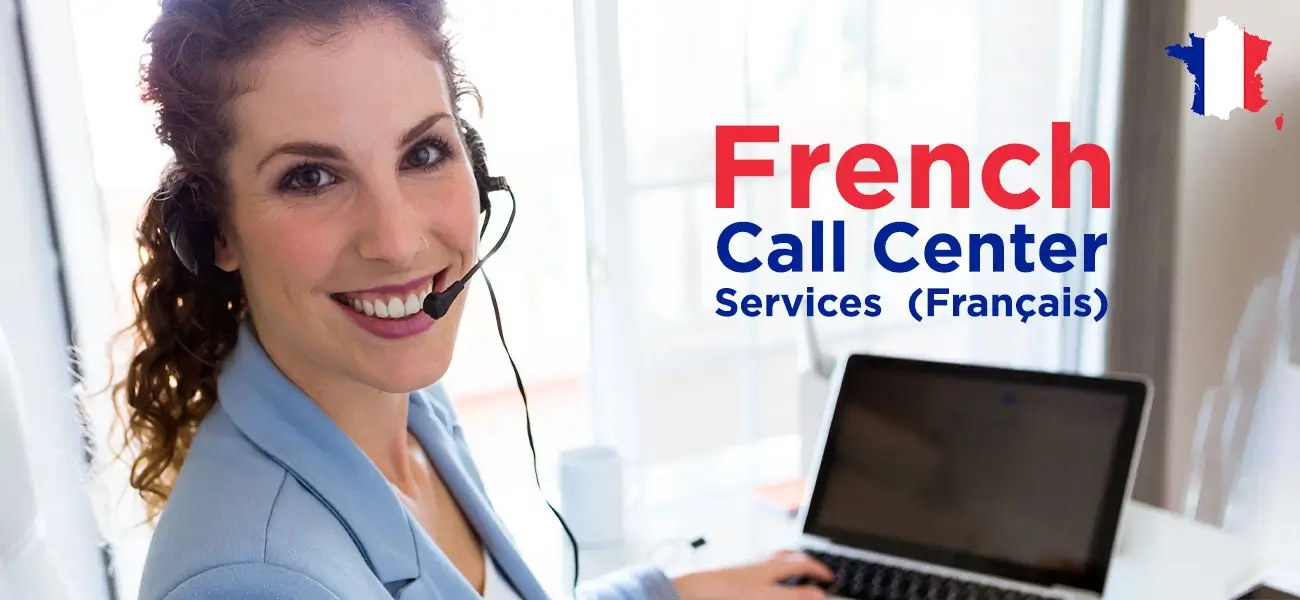 Leverage the potential of French language
Do you know why French is advertised as a language of the future? These figures would speak for themselves.
French, as a subject, is taught as a second language in the most admired schools worldwide
In Africa, the language is growing at a blistering pace.
In the Sub-Saharan region, most urbanites speak French which is also the prime medium for imparting education.
The younger population also interacts in French which is registering astounding growth of the language.
Forbes magazine had declared French as the potential language of future in its 2014 edition.
Bloomberg Business week had rated French next to English and Mandarin as the most prolific corporate dialect in 2011
Hence, WinBizSolutionsIndia helps you to capitalize on the vast Francophone market with our native French call center support customized to the client's unique needs.
Services Offered by Us
WinBizSolutionsIndia offers a holistic range of French language call center solutions to offer the client's brand a competitive edge in the dynamic and volatile market.
Telemarketing support
Interaction on chat windows
B2B lead generation
Selling of business links
Management of orders placed
Back Office management
Appointment setting
Technical troubleshooting over the phone, email etc.
24X7 Customer support
Stakeholder management
Implementing Customer retention strategies
Managing sales, cross and upsells
What makes WinBizSolutionsIndia the best option for French call center services
WinBizSolutionsIndia is your one-stop destination for French related call center operation and management. We have an expert team who are fluent and possess impeccable communication skills in French or are native speakers of the language. This helps them to communicate the messages in the same accent without distorting the semantic value which drives more sales and generates higher lead conversions. Through our extensive services, we make sure that we can effectively help our client companies to increase their brand awareness and credibility. Our dedicated account manager can also help them in providing timely updates and insights into the work progress.
Here are some other compelling reasons that can inspire you to trust in our services:
We have a team of dedicated Project Manager and native French speakers for each outsourced contract.
Business messages are conveyed in strong and unambiguous terms for preventing any kind of
Our interpreters serve as a direct medium between clients and prominent French-speaking stakeholders.
Training and cultural awareness sessions are imparted to agents prior to handling communication channels.
You can choose different languages apart from French with our bilingual call center support.
Comprehensive communication is done to facilitate the fast-tracking of prospects in offshore destinations.
Strict adherence to quality and deadlines for ensuring complying with international benchmarks.
Feedbacks and suggestion of the clients incorporated in real time to improve the service standards.
No compromise on team size or service standards based on the magnitude or timeline of the project.
State of the art infrastructure  facilities and sophisticated devices which are failsafe and assure consistent performance.
Connect with us now
WinBizSolutionsIndia is your trusted partner in your bid to capture uncharted business territories in foreign dominions by engaging with French-speaking prospects. Your returns on investment would grow exponentially with our strategic alliance. We support diverse business verticals like healthcare, public services, information technology, consumer electronics, academic, fashion, insurance, airlines, food, real estate, etc. Our expertise is not just confined to French, we also assure an exceptional class of multilingual customer support.
WinBizSolutionsIndia is eager to hear from you. Our professionals would have seminal sessions with you to write out the best strategic way to harness the potential of French call center services to rake in revenues for your business from newer locations. You can reach out to us over phone, email, or other media that suits you. We would offer you no obligation attached estimate after assessing your needs and budget. We are the ideal choice if you're looking for an experienced call center outsourcing company to provide you with the most efficient and excellent customer service in French.
In need of agents who can speak French? Hire our services and steer clear of the hassles associated with recruiting manpower, strategizing plans, analyzing business prospects, and managing a foreign language call center.
Contact Us