High-quality photos have always been in demand, whether you're an individual trying to get tons of likes on social media, a business trying to promote products and services, or a photographer trying to display a strong portfolio. But, to achieve the same, professional photography isn't sufficient. To make the images look natural, flawless, and professional, you need to hire photo post-processing services.
In this guide, you'll learn what it means by post-processing an image, the importance of post-processing a picture, how important is post-processing for professional photographers, eCommerce site owners, and businesses, and the various reasons for hiring image post-processing services.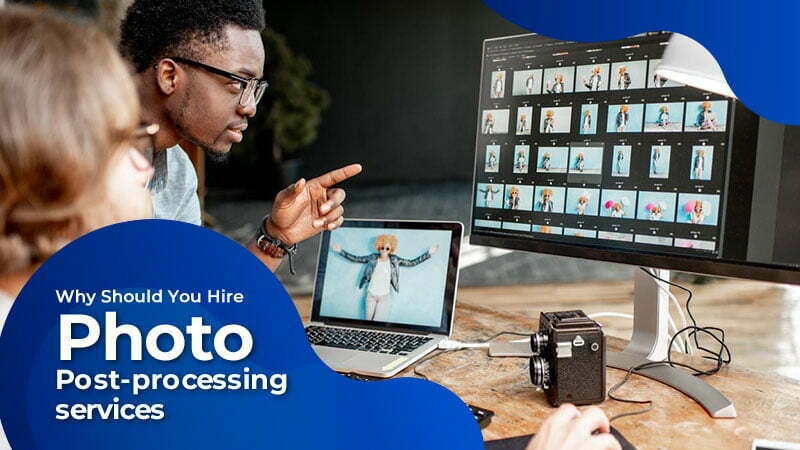 What is Image Post-Processing?
Simply put, photography post-processing is the process of editing and retouching an image to improve its appearance and quality. It can transform an image to any extent you want, to make it visually appealing.
You can dig up various tutorials online that can teach you how to make particular photo edits. But, by having a proper understanding of the image post-processing techniques, you can learn concepts that can be applied to any picture you want. Besides, learning the fundamentals can even aid you to hone your skills in different photo editing software.
Importance of Photo Post-Processing
Even though you have hired the top professional photographers, it's hard to get totally perfect images. You may get a few of them perfect but not all. That's when post-processing comes in.
A photograph is likely to have imperfections like distracting objects, unwanted noise, improper color casts, lighting issues, etc. To ensure that it doesn't become a hindrance in achieving your objectives and looks perfect, it needs to go through the post-production work.
With the correct implementation of digital photo retouching and enhancement techniques, a photograph can achieve perfection. Photo editors can analyze an image to figure out the imperfections and carry out the needed edits to give it the desired look. An experienced image editor is capable of removing all sorts of distractions, maintaining color balance, adjusting lighting, and more to make the image appear beautiful and attractive.
Furthermore, re-photographing isn't a feasible option as it will be expensive and time-consuming. That is another reason why businesses and individuals opt for digital photo editing and retouching.
So, whether you're a professional photographer, an eCommerce or online store owner, or the creative director of any business firm, you will most likely be needing image editing services at any given point in time. To help you understand its importance better, let discuss how image editing will be beneficial to each one of them.
For Professional Photographers

If you're a professional photographer, you'll be more interested how to take beautiful shots. But, capturing artistic images is next to impossible through just photography. You may learn a few things about improving images, such as making a precise composition, creating a focus on the subject, correcting exposure, and so on. However, that cannot assure a pleasing outcome. So, what can you do?

Well, there's one way to ensure you get pleasing outcomes and it's through post-processing. With the help of post-processing, you can remove unwanted elements and add uniqueness to your pictures. No matter what type of photographer you are, editing is necessary for all types of photography.

Below are a few points listed out that can help you to understand the importance of using professional photo editing services for photographers.

When photographers outsource image editing services, it can help them to improve the color, saturation, hue, and contrast of the images.
Post-processing can aid in sharpening the image to give them a crispier appearance. Besides, skin tone correction can also be carried out by maintaining the white balance.
By using techniques like clipping path, unappealing parts can be isolated from the picture. Similarly, techniques like dodge and burn can highlight the natural shadow of the objects in the image and make them appear more realistic.
It is also possible for photographers to achieve a creative blended look for their picture through photo correction. To achieve the best-blended effect, image editors mainly change the curve layers to luminosity and then, adjust the contrast and saturation.

For eCommerce Website Owners

For an e-commerce business, it is important to use images that are of high-quality and can load quickly without decreasing the website speed. Photography post-processing can help a great deal in optimizing images for easy loading as well as enhancing e-commerce product photos to attract more customers and increase sales.

Here are a few other benefits of picture editing for e-commerce site owners

It's a necessity for every image to get edited and optimized before getting uploaded on the sites. Otherwise, it may cast a negative impression on the visitors. That's why you need to invest in professional image editing services.
An e-commerce site will have a lot of pictures and editing each one of them yourself is impossible. But, relying on good retouching studios, you can get the pictures edited professionally and quickly.
Not just time, but outsourcing can also help to save money. Many service providers offer affordable photo editing pricing with quality outcomes. However, you need to very careful while choosing one. The safest option is to choose a photo editing company having years of experience.

For Businesses or Corporate Sectors

Businesses mostly need photo post-processing to get professional images that can be used for corporate marketing and advertising. Since a RAW photo cannot create the desired impact, post-processing is used to make pictures remarkable and wonderful.

Here's why employing photography editing is important for businesses or companies belonging to the corporate sector.

Photo retouching services can improve brand awareness. You can use them to represent your brand in a unique manner so that you can stand out from the competitors.
Through post-processing, you get to edit images as per your personal style or choice. So, it's up to you on how you want to enhance your pictures and to what level.
By getting the editing done by a professional image editing company, you can save time.
7 Reasons Why Hiring Photo Post-Processing Services is Beneficial
Customized editing on projects

An image editing company is capable of understanding your needs and can work accordingly to deliver the images. Also, many companies allow revisions, where you can get your pictures re-edited if you didn't like them the first time. However, you must know that re-editing may not be possible with all service providers. So, make sure you ask your service provider regarding this.

Image editing by professionals

Image enhancement is an art form, and it requires years of knowledge and experience to master the art of editing. And, by outsourcing to a professional service provider, you can get experts working on your project. It will ensure that the results are of high quality.

Freedom from workload

This reason is valid only for those who have a large number of image editing works. Image editing is a time-consuming job and it is hard to manage your duties if you've got limited time on your hands.

Nevertheless, by hiring a service provider, you can get thousands of images edited within a single day. The same could have been impossible if you did it on your own. You can easily release your burden by hiring a photo editing company.

Strong social media strategy

Social media can help in boosting advertising strategies by bringing customers to your site. But, in order to make it work effectively, you need to display quality images on social media platforms. Aside from being good-quality, they also need to be optimized as per the specific needs of each platform. Therefore, to achieve the same, you can use the help of pro photo retouching and editing.

Brand identity boosting

People usually recognize a brand through the pictures used on their site, products, or services. That's why pictures are highly important and can help companies project a better brand image in the market. It can also help them to make a long-lasting impression in the customers' minds and further attract a new audience towards their business.
Thus, by outsourcing photography touch-up services, you can generate better quality images, which can further boost brand identity, attract customers, and bring more revenue for your business.
From the above, it is quite clear how much it means to get high-quality photos and to get them done by an experienced photo editing company. Therefore, we would like to suggest our image post-processing services in case you need help.
WinBizSolutionsIndia has years of experience in providing professional photo editing services for photographers, eCommerce business owners, and individuals. We are devoted to producing high-quality work based on the needs of our clients. We also have a global client base who can attest to our quality, efficiency, and professionalism. If you want to get further details on our services, visit our website and drop us a mail. We would love to assist you!