Contact centres occupy a conspicuous position in the marketing and customer service department of most of the companies today. A seamless communication infrastructure, supported by updated technology and skilled manpower can leverage your operational efficiency. It is logical to outsource these services to third party companies, considering the cost effective services availed and quality you get. India is a popular destination for the same. Global companies rely on Indian firms and outsource their services to the offshore companies here.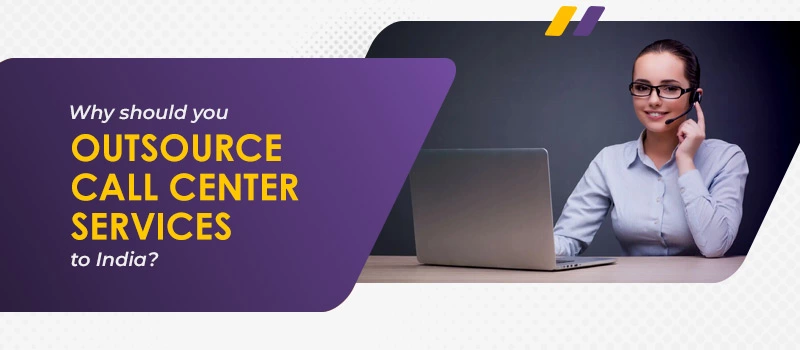 The benefits of call center outsourcing to India are detailed below
Why should you outsource the services to an Indian company?
Here are few of the reasons justifying why companies from across the globe choose India as their outsourcing destination.
Five among the top call center outsourcing destinations are in Asia. India ranks first among these countries in terms of share. The Indian BPO firms have shown a steep growth in the last few decades and are likely to enjoy exponential growth in the years to come.
The skilled professionals in India deliver quality services. Companies can enhance their quality of call centre services with support from Indian firms.
The call centres in India are updated in terms of software, technology and infrastructure. The technical superiority of these companies makes India one of the leading call centre outsourcing destinations in the world.
Another benefit of outsourcing call center services to India is that you can take advantage of the time zones here. It enables you to provide 24/7 customer care services to your clients. You can utilize your resources economically, as the shifting process can be incorporated seamlessly in India.
India is a country with one of the highest English-speaking populations in the world. The people here also have a good knowledge of other foreign languages, like Spanish, French, German, among others. Evidently, you can hire bi-lingual call center services and even multilingual call answering service, if necessary.
The Interactive Voice Response and Computer Telephony Integration systems are incorporated by the India call centres. These help to upgrade the overall performance of these companies.
The IT industry is fast developing in India and the government here supports this expansion. This is likely to boost up the contact centre industry in the coming years. Being associated with Indian companies assures that you can enjoy an unhindered long-term business associations
Which call center services can you get from Indian offshore companies?
Being one of the largest call centre service providers, India specializes in providing a diverse array of services to the global companies. These include outbound call centres, inbound customer support, chat support, email support, technical helpdesks and so on.
You may hire inbound call centre services for taking orders, delivering phone services, scheduling demos for sales, scheduling events, online sales, tackling requests, answering services and so on. The outbound services include telemarketing, credit verifications, lead generations, employment verifications, insurance verifications, surveys, market research, and brand promotion, among other services.
If you are planning to outsource your contact center services, approach an accomplished company with a decent track record. It will boost up your operational efficiency. To conclude, pair up with a reputed call centre in India to enjoy quality services from expert call center professionals.