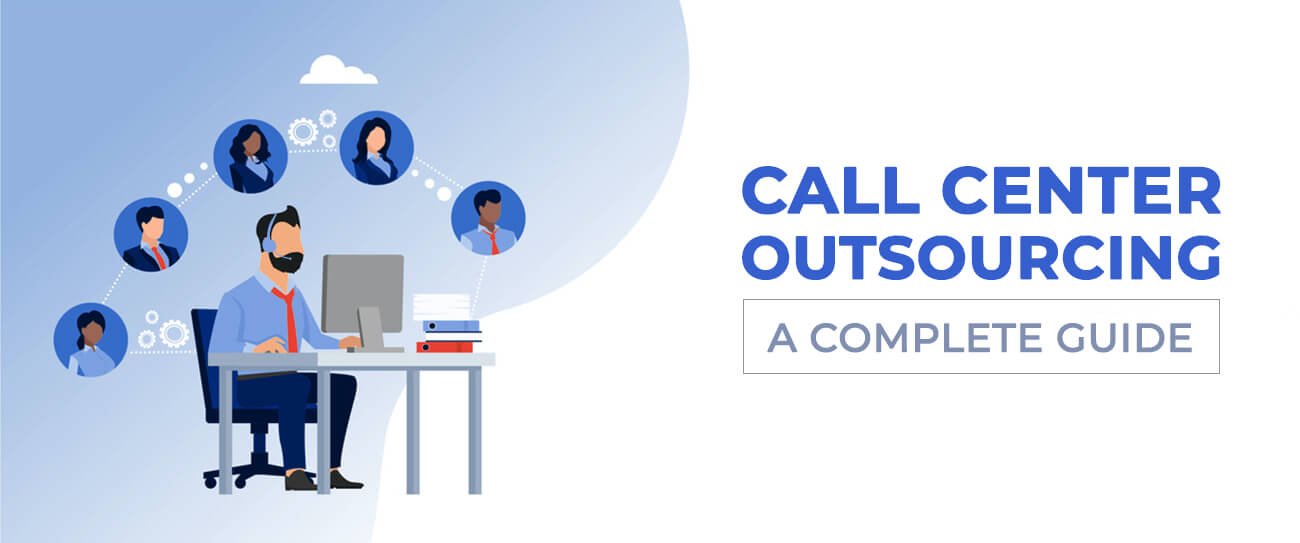 A business relies on many factors to spread its roots in the form of development. One of the major factors of all is the customer support system that helps in building sound customer-business relationships by providing through and through support to the customers that reflects in a profitable business.
This is why businesses must have a proper knowledge of call center service and how they can use their full potential to grow their ventures to a new level every time. In this write-up, we have collected all necessary pointers and compiled them to create a guide that will help the businesses to set up a call center service for their businesses and how the benefits can be driven out of them just by outsourcing these services to the professional call center service providers.
But, before you can outsource anything, you need to understand what is call center outsourcing is all about and what it can do for your business.
What is Call Center Outsourcing?
Call Center Outsourcing is the practice of a business hiring an outside call center company to handle its customer support functions.
Most call center services can handle everything from technical support, live chat support, email support and lead generation.
The Facts:
Today, there are about 15 million agents working in call centers. This figure is predicted to increase by 15% or more in the coming years. This is because more and more businesses are now outsourcing their customer service needs to BPO companies.
Before you decide to outsource such services, you must understand the types of call center outsourcing that are available to you.
Call Center Outsourcing Service Types
Inbound Call Center Outsourcing

These are used when customers call you for assistance or information. It could be as simple as someone needing to place an order. You can have inbound call center services outsourced to a third-party company so that your employees can focus on core activities other than answering the customer calls.

If explained in simple terms, an inbound call is what a business receives from the customers' or prospects' end with some product or service related inquiries, issues or grievances.

Customers/prospects initiate these calls either to the companies directly or to the companies' call centers.

Types of Inbound Calls/Sales Inbound Calls

There are 3 types of inbound calls that are commonly observed by customer support are as follows-

Payments/Order Related Calls

No matter how advanced your order placing or payment system is, there is still a pool of customers who believe in calling and being on the call with an agent.

Along with this, some customers call them after placing an order online or making a payment to the company to double-check whether the company has received the process done by them or not.

Customer Support (Order or Tech-Related)

Whenever a customer feels stuck or so, either with the purchase they have made or with the technical know-how, they tend to reach out to customer support to get the support.

This support can be purchase/return/refund-related or may be of technical support for the product or service purchased by the company.

Subscription Related (Renewal, Upgradation or Cancellation)

Every business has a subscription model to create stickiness with their customers and reward the most loyal ones. However, customer support also receives calls for this part of the business where they want either to upgrade their plan or renew it.

In some cases, the customers want their subscriptions to be canceled forever if they don't want to continue the same with the company.

Outbound Call Center Outsourcing

A call center that specializes in placing calls is an outbound call center. Companies with a sales team take advantage of outbound call center services to make appointments, explain their products, and collect leads.

In short, outbound call center service is a process of cold calling potential customers. It is an outgoing call to the shoppers based on the specific database collected.

These calls target a pool of customers to buy a particular product or service to Attract-Engage-Delight and convert them to buying.

These calls are also used for collecting market-related reports, surveys, etc.

Types of Outbound Call Center

Market Research

Cold calling is not always made to convert customers; it is sometimes used to get the nerve of the market, products, or services customers prefer.

In this call process, the agents ask questions to the pool of databases to extract their thought processes and know the trends customers are following and enjoying from the market.

This calling helps businesses find the right path to approach customers, or it also helps design a particular product in demand.

Generation of Leads via Warm & Cold Calls

Under this, the agents reach out to the potential customers to check the intention whether they are interested in the particular product or service or are simply curious.

This is a process where agents guide potential customers in their buying journey and generate a willingness to purchase.

This part covers both the telemarketing and telesales in it.

Multilingual Contact Centers

Today, many companies are looking to communicate with customers in their native languages. If you need to do that, you will require multilingual call center services, also known as global contact services.

When a multilingual support representative connects with potential customers in the language, they speak. The business becomes easy, and the chances of conversion and repetition increase.
Call Center outsourcing Companies – Advantages
There are several benefits to outsourcing your call center needs, including-
Reduced Overhead Costs

One of the biggest benefits of call center outsourcing is the reduced overhead costs that you will experience by outsourcing your services. An outsourced call center service will always have a lower overhead than you, in most cases, which means that your company can save and invest that cost in other business activities.

Easier Expansion

If your company starts to expand, you may need to hire more employees to handle the expanded departments or so on. That can be difficult if you are a small business setup.

On the contrary, when you outsource call center BPO services, expanding without needing more office space is easy, hence business expansion becomes easy.

Access to New Technologies

Do you want to stay up to date with the cutting-edge technology? If so, you should outsource your contact center services. Call center process outsourcing companies have the latest technology to serve customers, which may not be the case if you set up an in-house call center service.

Access to Specialized Skills

Another benefit is that you will have access to the special skills required for your company. If your company needs specific expertise, it may be hard to find the right employees. However, if you outsource your call center needs, that company will have all of the specialized skills you need, because these call center service providers groom their staff whenever required.

Improved Customer Service

Finally, you will provide better customer service for your customers when you have trained and well-equipped call center support.
Outsourcing Call Center Companies- The Disadvantages
While these services offer some super amazing benefits, there are some shortcomings as well and here we are discussing these to make up your mind whether these services are apt for your business set up or not.
Very Less or No Product Knowledge

The one major drawback of outsourcing the call center service is that the team will have very little or no knowledge of your products, services, business model or the company's vision. This can be because they have a lack of touch-pace with the company. This may impact the conversations with the customers.

But, this possibility can be eradicated with small steps towards educating these teams about your business and what products. Services you offer and how they can be beneficial for the customers.

Difficult to Monitor the Activities

Once you share your business responsibilities with your partner (outsourced call center services) you feel some kind of disconnect with your customers as they are handling each and every part efficiently, sometimes you will also feel that you are losing your control over your business.

Well! Fret not, you can always control that situation by forming regular connections with the service provider, discussing what is hindering your business and what can be done to improve that. This way you can monitor the activities as well as be informed about the new developments.

Sometimes hiring a business support to handle your customers turns out to be a cumbersome as well as expensive option for your business and this may sometimes lead to major business losses.

But how to avoid such a situation, well it is solely up to yo