Being a video marketer, you might know the importance of video editing in this digital world. Weaving your shots together is a critical task, and if not done systematically, your video will result in the disengagement of spectators. This article will be helpful for you to understand and learn more about different YouTube Editing Software available for your videos on YouTube.
These tools are the best for the professionals and the beginners to make the perfect edits to your videos. There are premium and free tools accessible but which are the best you can choose is yet a question to be answered. With the help of our video editors, we have sorted the list of best editing software for YouTube.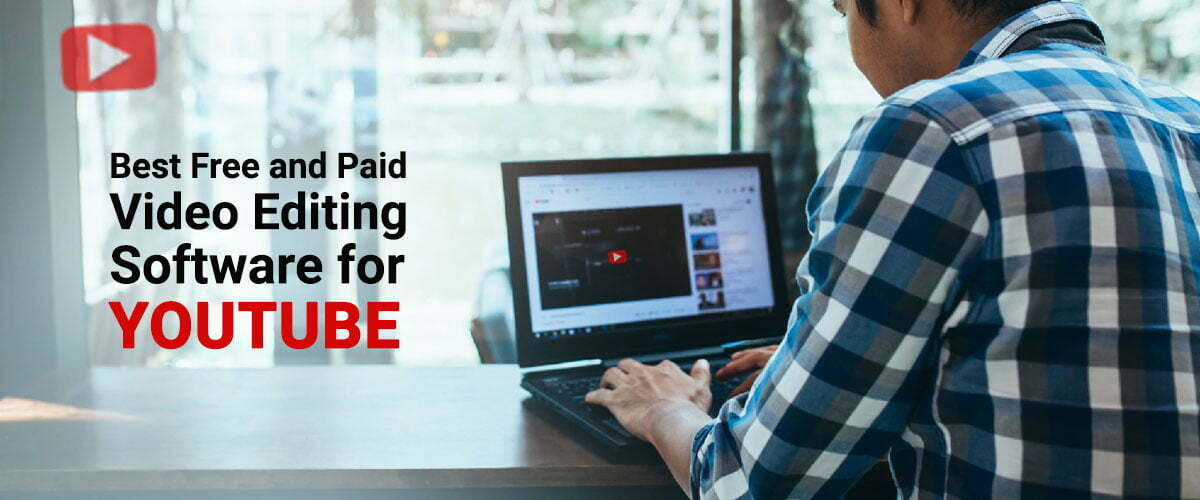 List of Premium Software for Editing Videos for Youtube
Final Cut Pro

A feature-packed program with an intuitive layout perfectly suitable for the professionals who need to do video editing for YouTube.

Works fabulously with photo collections and iTunes and helps take your videos to the next level.
Makes excellent use of panel space
Features file directory, imports and all other naming conventions
Performance is enhanced with some healthy additions
For compatible hardware, this program allows 360-degree editing.
Has an excellent level of manual adjustment for grading colours

All-in-One YouTube Editing Software- Movavi Video Suite

It is best for novice video editors who want to edit their videos quickly and easily. An affordable program packed with unique features which help in merging, adding transitions etc. The screen recording features help make helpful tutorials and has 160 filters, chroma key and caption support. An all-in-one solution is helping in the creation of videos.

Easy to use
Affordable pricing

Premiere Pro 2021- for YouTube Pros

Premiere Pro 2021 is an advanced software for professionals with regular updates, powerful tools and a streamlined interface with different team collaboration options.

An industry-standard video editor with everything you require to create incredible videos. Major production houses use this program as it works on Mac and Windows. This latest version of the Premiere Pro brings enhancements in performance.

Has an easy to navigate layout while ensuring simplicity
It has a new quick export feature
Helps in sharing and organizing projects effectively
Multiple processes are possible without duplicating project files.

Filmora X- Affordable editing software

Available for both Windows and Mac and supports over 50 formats.
An elegant program helping with video clips edit
A simple user interface to add special effects and audio easily
Creating and adding movie filters, moving titles without limits
Offers 100 Media layers which allow for crafting complicated stories
Noise removal helps in making the video sound perfect

Premiere Elements 2021 by Adobe

A simple interface helps create the most engaging videos while learning intellectual skills. Beneficial for novice editors to turn their simple video clicks into something beautiful and engaging.

Different effects are motion tracked and have been the most significant addition making the programs accessible and practical.

Easy-to-follow interface
Step-by-step tutorials
Clear navigation
Face detection
Soundtracks & audio effects

Guided edits are a vital feature that helps build confidence while using the interface

Premiere Rush

This Adobe's tool is one of the most appropriate software for editors and is a newcomer. This intuitive layout software has different tools and great export options. YouTubers who aim to generate quick content for their channels can use this software as the first choice.

Has a simple layout
There are different essential timeline clipping edit tools
Control over various audio and video tracks
Add titles easily from the templates available
Short transitions with four different options including None, Dip to white, Dip to black and Cross Dissolve

Pinnacle Studio

A kind of cheap software for YouTube Video editing with an accessible but in-depth option and is a perfect choice for editors in mid-level. It has in-depth functionality and interfaces similar to high-end options.

Has a revamped title editor enabling attractive and professional text graphics
Dynamic masking tools make it easier to mask your video clips
There are keyframes crucial to fine-tuning adjustments and effects
It's the perfect tool with lots of functionalities

Cyberlink PowerDirector 365

Worth considering this tool as it has some advanced features, including 360-degree editing, Multicam editing and motion tracking. Cost-effective solution for creating videos quickly with lots of tutorials. The easy editor automatically combines clips and photos in minutes to help you build your skills.

There are customizable vector shapes
Motion graphics and ready to use titles
100% accuracy in advanced motion tracking
List of Free Video Editing Software for Youtube
Lightworks

Lightworks is the best free program helpful for editors working on Windows. It's a pro-level video editing software used in big-budget movies in Hollywood. It gives excellent control and has powerful, rich features.

iMovie for the iOS operating system

Free Apple Software
Easy to learn the software with a straightforward user interface
Owners of iPhones, iPad and Mac, can try this software for editing
Valid for general consumer usage
Simple to use and pick up and is an excellent option for the newcomers.

Shotcut

Simple to use software for new YouTubers utterly new to video editing. There are different video and audio editing tools that support various formats. Open-source software customizable using pre-made panels. There are tons of tutorials available for iOS, Windows and Linux.
Conclusion
All these programs can be used to make your videos appealing to the audience. Choosing the best depends on you and the different aspects to be considered. However, the best way to save your time and get the proper editing would be to move on outsourcing your videos to WinBizSolutionsIndia, a leading video editing company.
We work with a team of expert editors who can take care of all your requirements using advanced tools. We offer professional YouTube video editing services to different businesses in different industry domains. Correcting improper lighting, colour correction, removal of jump cuts, transition addition, footage stabilization, and more to list out. Just name them, and we will do it for you. You do not have to worry about the timely delivery of your project as we have a decade of experience serving clients from across the globe satisfactorily.