Video post-production is referred as the final phase of video creation . It's the stage where everything that has been captured and envisioned is put together, and a final masterpiece is created. In short, this phase can be termed a putting together phase.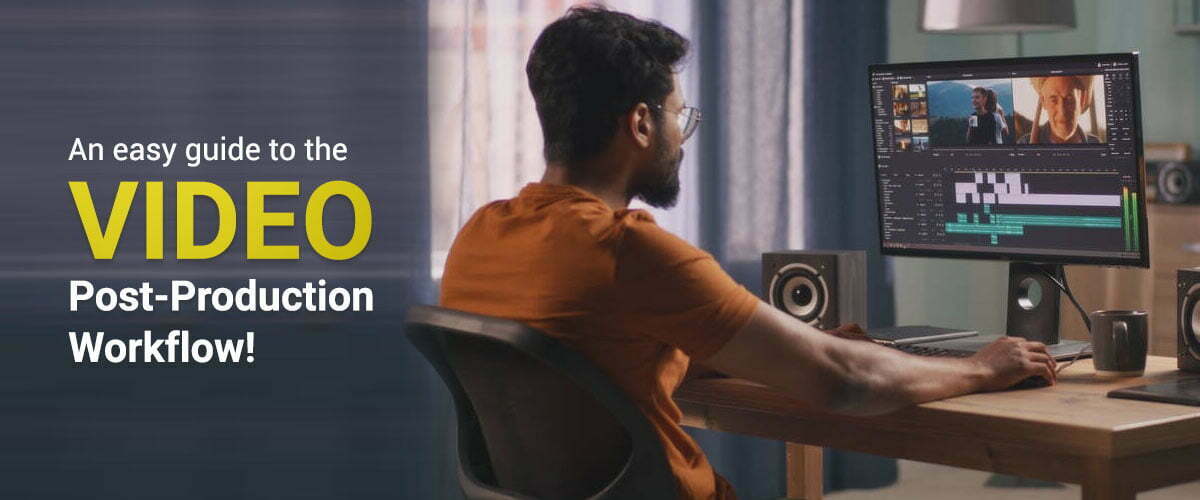 Here is a complete guide on video post-production workflow
The video post-production process involves assembling the files, correcting images, colors, animations, special effects, adding cuts, etc. Although a bit complicated, it aims at giving a consistent flow to your final video without getting lost in details. Post-production can get easier if you have a perfectly planned workflow. This will make the editing process smoother. A strong workflow will help you edit your videos perfectly by improving the flow and look of the final output.
Let's move on to know the workflow in a better way:
Media files to be transferred

Your files from the camera should be moved to your computer.
It might take time, depending upon the size and the format of your images.

Sorting out your footage

Good organization beforehand helps in making the editing process move faster.
Marking, labeling, and giving titles help the editor find his way through the files.
Sorting your files in different folders and then naming them accordingly will help you while editing.

Rough cuts editing

A rough cut is the first edit outlining the vision and the structure of the video
Adding all the files in sequential order can help you easily filter and perfectly cut the videos.

Sound, voiceover and music

You have put your videos in sequential order, and now it's time to add music and sound.
This helps create a concrete audio, visual experience you need to give your audience.
To further enhance your footage, you can think of adding a voice-over that can dramatically improve the video experience.
Prioritize perfect sounds at the accurate points during the entire editing process.

Texts, animations and visual effects

It's time to work on pictures to improve the visual impact of your videos
Adding texts, images, animations etc. should be done to make the video eye-catching for the viewers
Making your video more effective depends upon the creative approach of the editor

Color correction

To get a high-quality video rendering, color correction is the most important step
It's all about optimizing and applying color and filters for an aesthetic video
Fine-tuning the audio is the major factor in delivering the best experience with the final output.
Exposure, saturation, hue and contrasts need to be adjusted so that the clips in your timeline show a connection
Use color correction tools to enhance the consistent look of the video

Finalizing stage

Now you have all the essential elements, and it's time to finalize the output.
Checking by an outsider will help a lot at this stage as it will give a clear view of your creation.
Export your clips, keeping a final destination in your mind.
Compress it into a manageable format without sacrificing the quality.
Why do you need a video production workflow?
Without the right workflow, the review and approval process gets complicated. With different moving parts being involved, you need to be more careful. Else they can turn into a mess.
Automated workflow helps your raw footage go through versions and cuts, reviews from stakeholders, exports into diverse formats, lengths for distribution and promotion across different social media platforms.
The video production process is complicated, but timelines are getting tighter as there is a need for rapid distribution due to the increasing competition rate. To overcome these challenges, you will need a predictable workflow to keep your projects on track with deadlines and milestones. The other benefits include
Improved Team collaboration
Resource allocation can be done efficiently
Miscommunication can be avoided
Minimizes repetition & any unwanted issues and errors
Clear definition of responsibilities and roles among internal teams and stakeholders from outside
Review & feedback gets more clear
Project deadlines can be easily maintained between pre and post-production
Ensuring compliance is possible
Distribution of the final output can be done in the best way.
Workflows help in maintaining consistency and compliance with the brand.
Few tips to speed up post-production workflow
Let us go through some of the best tips to speed up the editing process as we know the post-production workflow.
It's better to have a preview of the scenes already shot. This will help you make adjustments if needed, and then you can adapt it to the rest of the shoot.
A good shot can only make a good edit. Proper planning of all the shots in advance will save your time which can be wasted in filtering and selecting raw footage. This will bring consistency to your footage, and making choices gets easier during the edit.
File sorting and naming can save you time. We recommend using the tagging features in-camera. Placing markers on your footage while shooting can be really useful.
Compressing the raw video files will be very helpful.
Conclusion
Video editing is a satisfying, creative, and immersive process for some people. For others, it might be irritating, tedious and time consuming. What about you? If you feel it's a daunting task, we recommend experienced video outsourcing company.