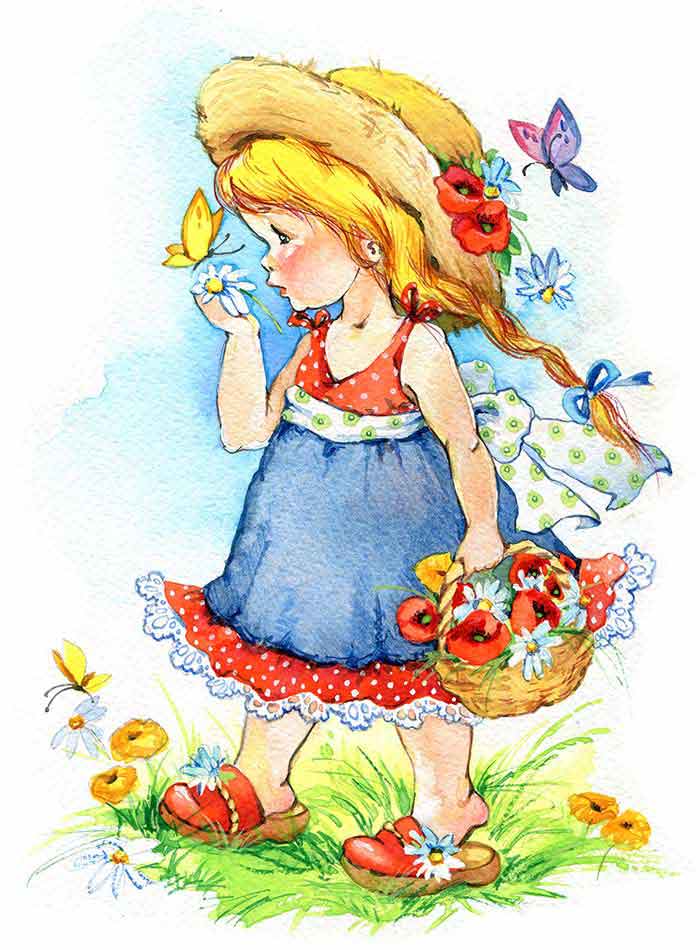 The use of detailed and creative illustrations in children's books plays a critical role in establishing a regular reading habit in children, which in turn contributes to their character and personality development. However, children are less likely to be inspired by books that are laden with text. Books with colorful images and illustrations placed along with texts grab the attention of children and generate a reading interest in them. No wonder why authors and publishers typically look for a professional illustration company that delivers high-quality children's book illustrations services .
The process of creating illustrations for children's books is all about passion for artistic expressions. Illustrators are professional artists who are adept at using modern digital graphic design tools to create wondrous works of digital art.
The process of creating illustrations is more about exercising artistic prowess than about following a technical process. However, illustrators would still need to follow a step-by-step process to make sure that their overall workflow is efficient and that they are working to produce desired outcomes keeping in mind the project objective and the needs of the target audience.
The Steps to Create Illustrations for Children's Books
Storyboard creation

Get your storyboard first. Doing so will help you understand how the finished work will look. You may draw on a whiteboard or a simple paper, based on what makes you comfortable and creative. Lay out the pages, jot down the text and start penciling.

Deciding the page size

Determine the size of the page. It is smaller or something of large scale? The importance of resolving it is vital owing to the fact that only by knowing it you can decide the number of pictures and their size that needs to be included. Refer books that are similar to the one you are planning in regard to style and size.

Create a sample

After deciding page size and layout, companies offering illustration services, create a mock-up. This doesn't mean the whole thing has to be done. You simply have to put together all the pages based on the style and size you need. This will provide you with an exact idea about the appearance of the final product.

Add variations

Even when you outsource to the best company offering book illustration services, they leave some pages purely with text. Every page need not have pictures or illustrations. Variations are always a visual grace. Sometimes if you have a page with a full image, it is fine to make the following page completely text oriented. Adding surprise elements in between in the form of creative variations helps you to retain the attention of the readers.

Rework until perfection is achieved

Reaching excellence or immaculateness takes time. In the process of illustrating, reworking may be needed 'n' number of times.  Have the patience to keep doing the right things to get outputs that you are ultimately satisfied with.
Key Considerations in Creating Illustration for Children's Books
We hope that by now you have understood the technical workflow involved in creating artwork for children's books. However, you should know that there are certain critical considerations that you should take into account while creating artwork for children's books and this would allow you to deliver outcomes as per expectations and the needs of the target audience.
Understand the Setting

While sketching characters, it is important to understand the setting and to imagine the situation that the characters might be passing through. Read through the manuscript attentively to understand the opportunities for creating unique illustration. This way, you would be able to create exact scenes and characters while being able to complement the narration accurately.

Understand the brief

Apart from the story, the publisher or the author would hand over a brief to you, explaining what they want to get shown as illustrations. Certain portions of the text may be detailed, but they might still need illustration support for better clarity. Your publisher would be deciding whether a full bleed spread would be necessary or two separate images or a series need to be incorporated. Notably, the publisher might provide you with full-size cutter guides with the text being placed in desired sections to let you have an idea of the available space.

Start with Thumbnails

Thumbnails might help you design the overall layout, but you may start with A4 sketches that would be smaller than the size of the final outcome. This size is manageable and you can include adequate details too. With this approach, you would be able to scan and email your sketches smoothly.

Understand your Audience

You would face major challenges with your first sketch as you need to consider a lot of parameters  such as location, composition, setting, expression, pose and props. You alos need to consider the minor characters in the environment. Your target audience are children so you should create appropriate settings. Your artwork should be authentic and it should appeal to children's mindset as well. For example, if you are creating artwork for a kid's horror book, you should design settings and characters in a way such that you generate a spooky feel that's not too horrifying.

Maintain Continuity

If you are creating illustrations for a picture book, then maintaining continuity might be a major challenge. And a part of this task is to ensure that you retain a character's features or proportions from all angles. For example, if you need to draw   multiple scenes from a garden, you need to make sure that the background elements remain relevant from all angles. There may be instances when certain  elements of one scene may not remain relevant in the next scene.
If you are a beginner in this field, you should try to develop your expertise in the use of modern graphic design and illustration software so that you can use them optimally to create awe-inspiring outcomes.
Here are the top graphic design software that you should use to boost your career as a children's book illustrator:
GIMP

GIMP is a top image manipulation program that would allow you to generate graphics of high clarity. You can customize the interface as per your needs and you can view and edit simultaneously when you would be using the full-screen mode. It is a cross-compatible program and can be made to run on multiple operating systems including Windows, Linux, and OS X. However, GIMP has a few bugs and not entirely compatible with Cintiq tablets.

Adobe Illustrator

With Adobe Illustrator, you can create sketches, icons, logos, typography, and complex illustrations. Illustrator would allow you to draw pixel-perfect shapes and finer art with flawless alignment. The Creative Cloud version of this software can be used across Mac and Windows platforms. The touch-type tool is very useful and the Free Transform tool is an easy-to-use feature. However, the price is on the higher side, which is why beginners may not find it suitable for in initial practice sessions. However, it is one of the best programs for the professionals.

Inkscape

If you are a vector art enthusiast, then Inkscape is the ideal software for you. The tool is compatible with all leading operating systems including Windows, Mac, OS, and Linux. Whether you are a pro or a beginner, you would find Inkscape an easy-to-use program to create sketches, to color images, and to create illustrations. You can use it for free and you are most likely to be amazed with its multiple filters and features that allow for editing of gradients, source codes, and clones and for filling up of the paint bucket with just a click. However, you may find the program to have a significantly slow speed.

CorelDraw

CorelDraw is a vector graphics editor that is noted for ease of use. The X5 version of CorelDraw comes with an inbuilt organizer called Corel CONNECT. It features an alignment guide that would allow you to place objects as per requirement. You can work smoothly with large Corel Photo-paint files and the software supports apps such as Duplexing wizard, Barcode wizard, and Bitstream Front Navigator. The interface is customizable and the tutorials are quite effective. You may either go for a subscription-based arrangement or you may opt for perpetual license as well. However, you need to practice a lot in order to master CorelDraw. The navigation board does not remain visible and navigation is quite difficult. There's no version available for Mac and you may find the freehand brush to be quite difficult to handle.

Adobe InDesign

With Adobe InDesign, you can create custom layouts for both desktop and mobile platforms. One of the most easy-to-use tools to create graphics, Adobe InDesign can be used effectively to create the layouts of brochures, print books, and digital magazines. The software would allow you to easily drag and drop layers as per requirements and to resize images. It is a part of Adobe CC, so you would get access to the desktop apps for Mac and Windows alike. You may also consider using Behance to link your workflow with related activities elements such as videos, photography, app or web development. If you choose to use Adobe Creative Sync, you would be able to sync your work between your mobile and desktop apps. When you become a member, you would be notified about the latest updates. In Design allows for an easy combination of text and graphics and is a perfect option for beginners. However, it comes with limited number of tools to create graphics and it is not a graphic design program, so its graphic design capabilities are not so powerful.

Corel PaintShop

The Corel Paintshop 2020 is the latest addition to the Corel family and it is noted for its awesome photo editing tool that allows for photo management. It comes equipped with sophisticated tools that can be used by beginners and professionals alike. The platform also renders learning support through video tutorials and other types of assistance. It features more than 90 filters that would allow you modify the color and texture of your image. You can easily edit images that appear in diverse formats such as JPG, PSD, RAW, PNG, TIFF, GIF, and PDF. The program supports batch processing and features an auto-edit option. It is compatible with Windows only.

Corel PhotoImpact

You would find the interface of this program to be easily navigable and user-friendly. Its X3 version comes equipped with a large number of designing and editing tools and based on the functionalities of these tools, they have been segregated into eight different types of fields. When you use the ExpressFix option, you would be able to perform a one-click adjustment to the color, focus, exposure, and skin tone. With the Full Edit feature, you can perform activities such as photo enhancements and portrait touch-ups. It features basic as well as advanced features and it is compatible with multiple types of file formats such as PNG, TIFF, PSD, RAW, JPG, and animated GIFs. This program would allow you to edit panorama and HDR images and instill enthralling effects. It features a main docked panel that hold other panels together and you can bring them out as and when required. The program allows for limited sharing options.

Photoshop

The last and the most widely used illustration-making software is Photoshop. Photoshop features tools such as the brush, eraser, and the hand-drawing tools that you can use effectively to create handmade illustrations. The brush tool would allow you to draw everything from scratch and it is a good idea to start with 900 dpi just in case you need a bigger sized artwork in the future. Use shortcuts and vector tools. Photoshop features a comprehensive color palette and you can use colors in perfect combinations to enliven your digital sketches.
At WinBizSolutionsIndia, we know the pleasure you experience when your ideas are materialized through perfectly illustrated books. Seeing that smile of satisfaction excites and motivates us. Our services in this regard maintain a supreme level of excellence and we make use of planned processes, right tools and trained professionals for getting things to exceed your expectations. We avail illustration and design services for authors with children's books as one of our core specialties. As we remain attentive towards the evolving expectations and favoritism of children, you can be guaranteed of best outcomes from us. To know in detail about the latest packages and offers, reach us at the earliest.