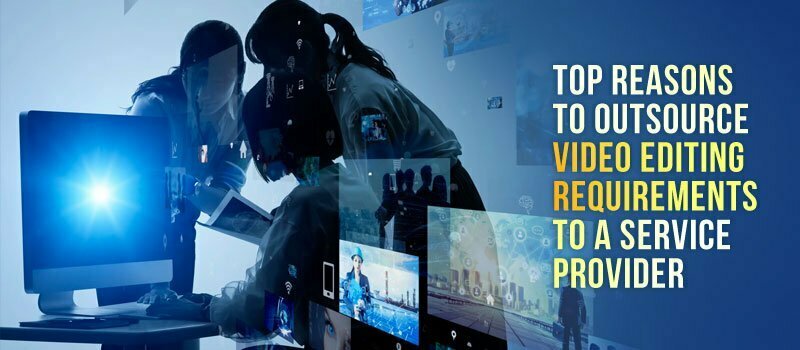 Every business, big or small, wants to find innovative ways to boost its brand awareness. And one way to achieve this objective is to use videos to market product and services and to promote brand awareness on a holistic level. With this approach, businesses need to invest in quality video editing services in order to ensure that the most stunning and professional videos reach their target audience.
Today, people spend significant amount of time daily scrolling through the news feeds in social media platforms, which is why businesses have started using them for video marketing. If you are running a business and want to use videos to promote your brand, you may want to outsource video editing services to a reliable video editing company that would justify your investment by delivering high-quality videos within a short turnaround time at the best possible rates.
In this article, we have discussed about the top reasons why you should consider outsourcing your video editing requirements to a professional service provider:
Time

Ask yourself if you or your employees will have the time to handle video editing in-house. Can you afford to spend time to learn video editing? Even if you use an easy-to-use video editing software, you would need to spend considerable amount of time and effort to master its use.

Will it be possible for you to manage video editing as well as your other tasks? If not, you should consider outsourcing your video editing requirements to a service provider that employs qualified video editors who are proficient at handling modern programs. Video editing is a complex and tedious process and so you should want professionals to do this task for you.

On-Demand Service

If you are looking to hire an in-house video editor, it might turn out to be a really expensive affair for you. Fortunately, there are professional companies providing video editing outsourcing services to businesses at competitive prices.

These companies are professionally managed and they employ experienced employees who guarantee the delivery of outstanding outcomes. You can engage them whenever you have a requirement and pay for what you need instead of paying monthly salaries to full-time, in-house staff.

Interesting Storytelling

Videos that are professionally edited have the potential to create a strong impact on your target audience. Professionally-edited videos can tell a story more effectively compared to raw footages.

Experienced video editors can even compress a 2-hour raw footage into a 2-minute video that can be shared on diverse social media platforms.

Unique Viewpoints

If you want to get your videos edited by yourself, the outcomes may get affected due to your personal bias. But when you hire a video editor, the outcome will be free from personal bias and your video editor would do the required cuts to portray your ideas in a concise and clear manner.

You can have peace of mind knowing that you would get a high-quality output that would serve your unique project needs.

Exploration of Global Perspectives

If you own an eCommerce business, you may have to create a new promotional video that can impress your target customers.

When you hire one of the reputed video editing services, you can be sure that your service provider would take into account the traditions, customs, and trends of your target market while refining your videos. For example, you can get culturally-appropriate videos created for specific audience across Instagram and Facebook.

Flexibility

When you have an in-house video post processing team to assist you, you have to operate on a linear schedule. But when you outsource this task to an offshore outsourcing company, you can take advantage of time zone differences.

When you are focusing on other aspects of your business or spending quality time with your family, you will know that there are professionals who are operating from some other parts of the world to help you accomplish your project objectives. You can ask your outsourced team to deliver within the predetermined deadline so that it matches with your company's schedule.

Cost Savings

When you employ an in-house team, you need to bear overhead costs due to the deployment of infrastructure, machinery, equipment and software.

You would incur an additional expenditure for procurement, maintenance, and staff training. However, when you hire an outsourced team to handle this task for you, you can benefit from enormous cost savings. Your service provider would have the required infrastructure and resources to deliver high-quality outcomes at reasonable video editing costs.
Are you looking for professional video editing support? We, at WinBizSolutionsIndia, have a team of professional video editors who are passionate about their work and can deliver extraordinary outcomes that can address your needs. We offer customized packages to our clients, ensuring that they pay for what they want.
If you have a requirement that involves the editing of corporate videos, wedding videos, or YouTube videos, we are ready to discuss about your project with you. Call us now; we have solutions for your unique video editing needs.