Struggling to support your inbound Russian clientele? Or does your business lack the resources to tap into the Russian-speaking customers?
Then WinBizSolutionsIndia is the right option for you.
Our exceptional call center solution enables you to reach the leading Russian-speaking countries, including Ukraine, Belarus, Kazakhstan, Latvia, Bulgaria, Finland, etc., along with all the other clients speaking the language worldwide. Our stellar service can also help you seamlessly manage your existing Russian customers.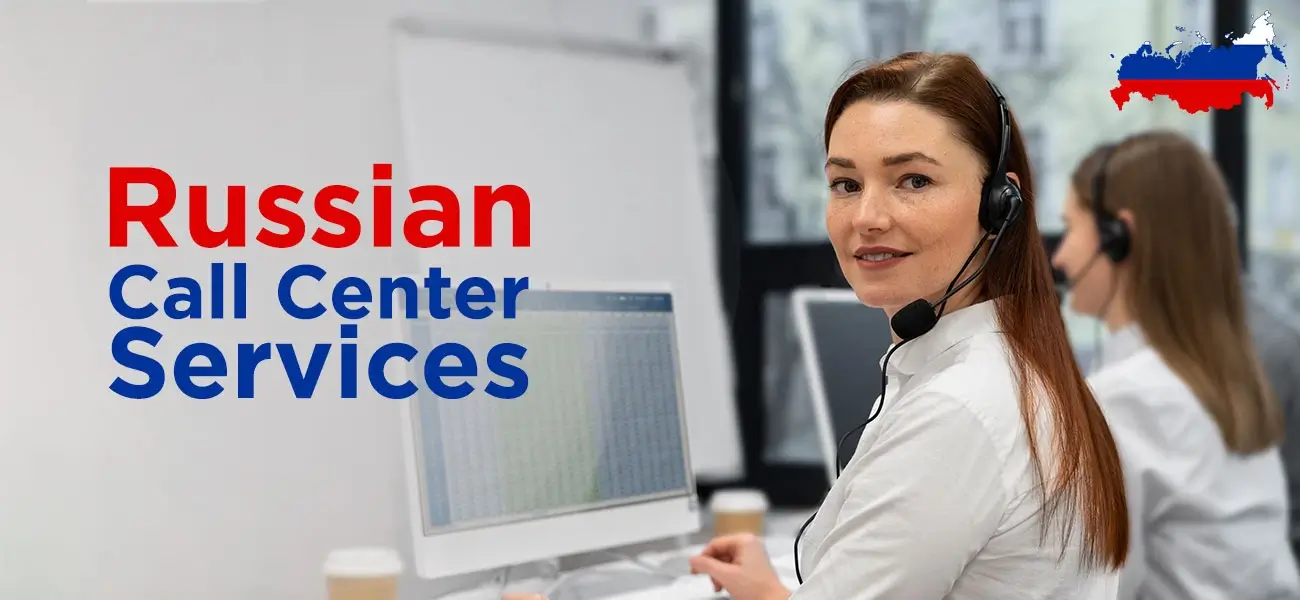 Why Russian Language?
More and more businesses are looking forward to doing business with Russia, one of the economic Superpowers of the world; hence, it has become increasingly crucial for organizations to have a dedicated call center team fluent in that language.
Apart from being one of the most spoken languages in the world, Russia is also one of the largest hubs of high-profile investors, which is another excellent reason for most businesses to expand into the largest country in Eastern Europe.
With our robust infrastructure and competency, we support businesses worldwide requiring fluent Russian-speaking call center executives.
Our Russian Speaking Call Center Services include
Inbound Customer Support

We offer 100% native Russian inbound call center solutions that help you address your existing customers in the best possible way, retaining them over the long term. As well as attend to every enquiry and lead your business generates.

Outbound Customer Support

Our dedicated outbound call center services executed by native speakers help you capture the trade in the Russian markets in the best possible way. Feel free to expand your business in any Russian-speaking country without any hassle.

Email Support

We offer best-in-class and reliable email support in native Russian that resolves any customer issues in a professional manner.

Chat Support

Our super-responsive live chat support enables your business to deliver a more personalized customer experience and resolve issues in real time.

Technical Support

Our knowledgeable Russian tech support team quickly identifies and resolves your customers' hardware and software issues.
Why outsource Russian call center services to WinBizSolutionsIndia?
We provide exceptional excellency in our services and an improved global customer experience. Trusted by diverse businesses across the world, WinBizSolutionsIndia has been providing top-notch customer support in over 50+ languages, and Russian is one of them!
We are proud of our workforce, and robust infrastructures that help us stay competitive, agile, and relentlessly serve our customers.
Below are a few more reasons for choosing WinBizSolutionsIndia-
Gets immensely talented native Russian-speaking customer support agents with the right knowledge and expertise.
We adhere to the highest possible international standards.
Optimum customer support backed by experienced professionals.
State-of-the-art infrastructure facilities and sophisticated devices that assure consistent performance.
We utilize the latest tools and cutting-edge technologies.
Our executives strictly follow deadlines and perform quality checks for each call.
We highly value customer feedback and incorporate them into our work process for better improvement.
We value customer data privacy. All your data remains highly secured owing to our stringent data security procedures.
Not just Russian, we offer a gamut of other bi-linguistic call center services, viz, French, Italian, German, Spanish, Chinese, Arabic, Portuguese, and many more.
Scalable & flexible pricing plans per your business requirements.
Contact us today
It is high time to eliminate the language barrier and explore business on a global scale. Make WinBizSolutionsIndia your outsourcing partner to experience our Russian call center services. We guarantee a remarkable level of multilingual customer service in addition to our knowledge being limited to Russian. Partner with us today and get the best competitive pricing and world-class call center solutions to grow your bottom line.